Bathing Rituals: How to Have A Spa Day at Home
Looking for ways to create a self-care spa at home? With just a few small upgrades to your bathroom, such as indoor plants and aromatherapy, you can find your oasis without leaving your home.
Here are some tips for planning a DIY home spa day for an immersive hydrotherapy experience.
What Is Hydrotherapy?
Hydrotherapy involves using water in various forms and temperatures to provide therapeutic treatment to the body. Hydrotherapy can range from aquatic exercise to a steam spa or sauna. Ancient civilizations used hydrotherapy for its health benefits, and the practice continues today. Now, people use hydrotherapy in their day-to-day lives, including evening baths, warm showers, or even a combination of both.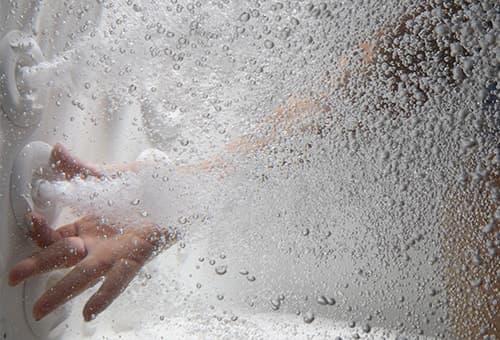 Spas are one of the best places to engage in hydrotherapy because spas provide a soothing, immersive experience. When you step into a spa, your mind has the space to breathe and focus on your self-care. Here are a few ways to prep your bathroom to get the same benefits as going to a spa.
Pre-Hydrotherapy Rituals
Add Some Plants to the Bathroom
Research shows that interacting with indoor plants can have a positive impact on your mental health. We recommend adding a few plants to your bathroom for a home spa remedy that's as scenic as it is rejuvenating. Some plants, such as aloe, offer health benefits that make them the perfect addition to a spa day.
Heat the Bath to the Perfect Temperature
Spa days are all about focusing on your comfort. When you fill your bathtub with water, you want to ensure that the water is at a comfortable temperature for you.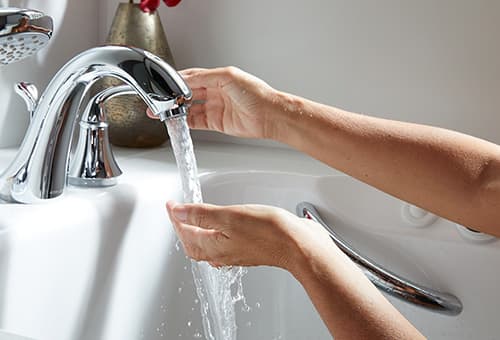 The ideal bath temperature is between 90 and 105 degrees Fahrenheit (or 32 to 40 degrees Celsius). To test the water temperature, place your hand in the water. If you can keep your hand in the water comfortably, then it's the ideal temperature. 
Warm baths offer multiple health benefits that can help you regain your sense of peace, such as improving sleep and potentially reducing blood pressure. So, let the water run until the tub is almost full and feel the tension wash away.
Use Aromatherapy Diffusers
Aromatherapy involves using essential oils to help you feel more relaxed. Aromatherapy diffusers spread the essential oils' scents around a room using water and airwaves. To create a comfortable home spa in your bathroom, add a few essential oils into a diffuser. We recommend oils such as lavender, chamomile, or sandalwood to help you ease your mind.
Listen to A Relaxing Playlist
According to the University of Nevada at Reno, relaxing music can help soothe your muscles and manage stress. That's why many spas play ambient music to help you take your mind off the day's stress. 
To set the scene for your home spa, create some ambiance with a relaxing bathtime playlist. We created a playlist that combines classical, instrumental, and ambient music to help you find a few moments of self-care. You can access the playlist for free on YouTube.
Hydrotherapy Rituals
Create a Tub Shower Combo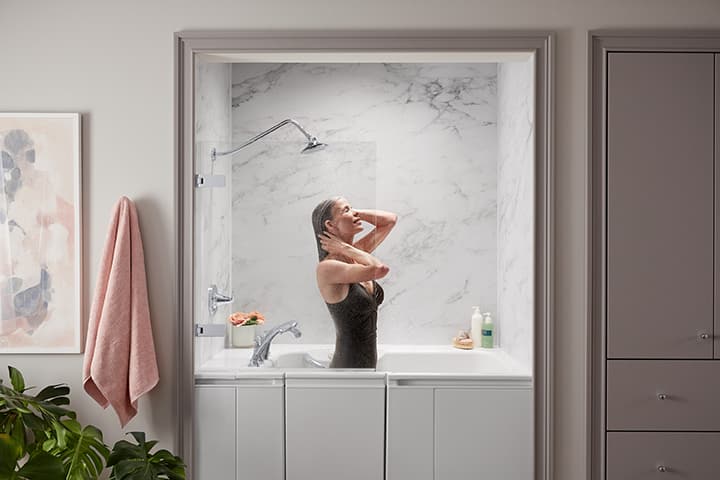 Can't decide between the safety and comfort of a walk-in bath or the convenience of a shower? A tub shower combo delivers the best of both worlds. This hybrid option adds flexibility to your bathing routine to accommodate users of varying needs while saving space in your bathroom.
The KOHLER® Walk-In Bath can be outfitted with the Shower Package to create a tub shower combo. It features the gooseneck shower arm that allows you to take a safe standing shower and the KOHLER Bath Screen that keeps water contained inside the tub.
Soak In Epsom Salt
Epsom salt is an essential ingredient in a successful spa day at home. According to Medical News Today, Epsom salt offers key health benefits, including reducing stress, treating muscle inflammation, and helping restore dry skin. If you want to use Epsom salt in your bath, run your bath water and add two cups of salt while the tub fills. Soak in the bathtub for no longer than twenty minutes.
Use a Handshower
Handshowers are a great way to enjoy hydrotherapy if you have sensitive skin. With a handshower, you can gently run water over sore muscles to help you relax while simultaneously soothing your skin. You can also use a handshower to give your scalp a soothing massage.
Enjoy a Refreshing Drink
While you're relaxing in your spa, rejuvenate with a cool drink to help you enjoy the moment. You can try a few DIY recipes, including limeades and spritzers, that your tastebuds will love.
Post-Hydrotherapy Rituals
Rehydrate Your Skin
Once you're out of the spa, replenish your skin with a refreshing lotion or cream. You can use one that you bought or make your own lotion filled with natural ingredients.
Get Cozy in Comfortable Linen
After you finish your hydrotherapy day, continue the cool-down process with some comfortable linens. A cozy bath towel or robe is a great way for you to relax before bedtime or bring a clear state of mind into the rest of your day.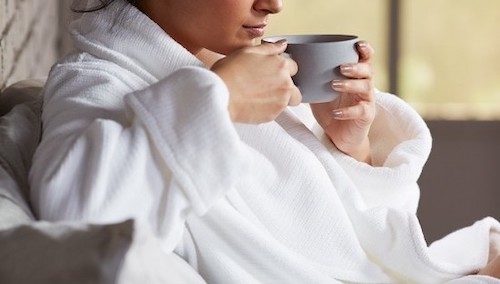 Find Your Escape with KOHLER Walk-In Bath
Ready to plan your special spa day? Add a walk-in bath to complete the relaxing atmosphere for your bathroom. Request your free quote today to get started.