Enjoy This Relaxing Playlist at Bathtime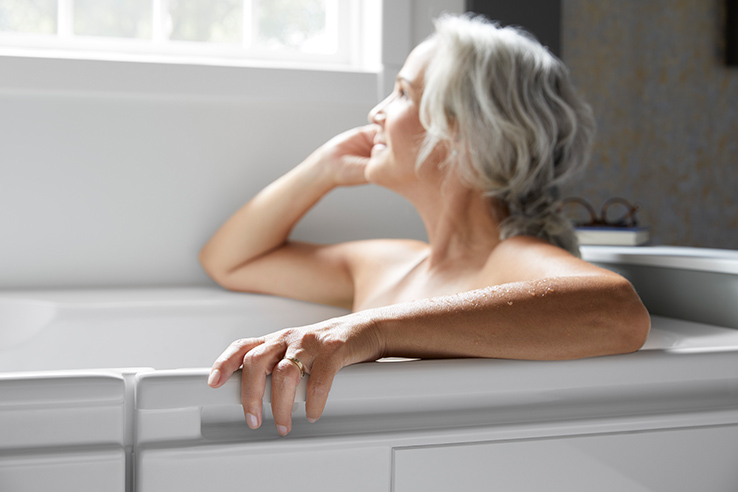 At KOHLER Walk-In Bath, we hope you dedicate some time for self-care. We created a bath playlist of relaxing music to help clear your mind as you unwind. You can access this playlist on YouTube, or by simply pressing the Play button below.
To view the full playlist, click the menu button in the top right corner of the video frame.
"Waltz in B Minor" by Chad Lawson
Chad's Lawson's "Waltz in B Minor" is a piece of classical music that helps you imagine yourself floating through the air. This song is the perfect soundtrack to bath time on a rainy day.
"Gymnopedie No. 1" by Erik Satie
"Gymnopedie No. 1" by Erik Satie is a timeless classic. The famous French composer created this piece in the late 1800s. It's been helping people relax for decades.
"Hallonlandet" by Henrik Lindstrand
"Hallonlandet" is a piece by Swedish composer Henrik Lindstrand. This peaceful blend of piano and strings pairs well with other bath rituals, such as scented candles or a refreshing drink.
"Ylang Ylang" by French Kiwi Juice
Ylang-ylang is a unique perfume found in flowers from a ylang-ylang tree. In "Ylang Ylang" by FKJ, the French artist paints a picturesque, sonic landscape that makes you feel like you're smelling the flowers.
"P.S. I Still Love" You by Brian Kennedy
"P.S. I Still Love You" is a New Age ballad by electronic artist Brian Kennedy. This relaxing bath music is reminiscent of classic love songs. Play this song while enjoying a nice bubble bath.
"Cinema Paradisio" by Alexandre Tharaud
"Cinema Paradisio" is a piano cover of the original film score piece by Ennio Morricone. You could enjoy this tune while your bath's whirlpool jets create a relaxing, hydrotherapeutic experience.
"Waiting (Piano Mix)" by Roary
"Waiting (Piano Mix)" is a contemplative piece of ambient music. Roary, a Nashville music composer, strives to convey a story in his music. Listening to this song is a similar feeling to reading the pages of a book.
"By The Swings" by Jacob David
Research shows that slow beats can create a meditative state in the brain. "By The Swings" is a harmonious blend of classical piano with string accompaniment. This tranquil beat is perfect for you to reflect on the day.
"No Conditions" by Nick Box
Nick Box uses electronic textures in "No Conditions" to create a dreamy piece of ambient music. You'll almost feel as if you were a bird flying through the earth's atmosphere.
"Postcards From Far Away" by Coldplay
Although "Postcards From Far Away" by Coldplay is less than a minute long, it's one of the most calming, thoughtful pieces of music. Inhale the positivity and exhale the stress as this piano ballad helps you focus on important parts of your life: self-care.
We hope that you find this bath music playlist relaxing and comforting. If you're wanting to add more comfort to your bathroom, consider shopping at KOHLER today. From our bath and body products to our Walk-In Baths, we offer numerous bathroom products to help you de-stress.