Refreshing Sips for A Relaxing Soak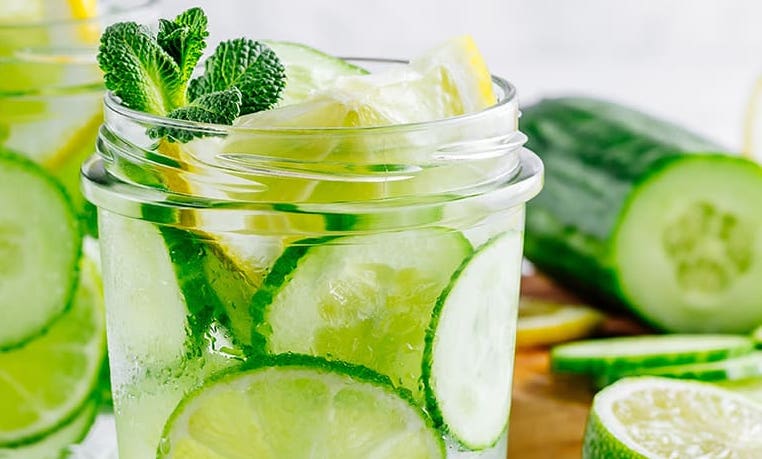 Bath time is a perfect opportunity to carve out time to indulge in some escapism. While washing off the worries and stresses of the day, you can create a space for yourself to relax and unwind.
Among the many popular bath time rituals, including listening to music and reading a book, none are quite as refreshing as sipping a delicious beverage surrounded by bubbles.
Here are our favorite zero-proof drink recipes that you can enjoy while relaxing in your bath. Try them out during your next soak, and your tastebuds will thank you.
Strawberry Mint Spritzer
With strawberry season just around the corner, what better way to enjoy this vibrant fruit than in a thirst-quenching Strawberry Mint Spritzer. This recipe from the Dash of Sanity blog only requires 4 simple ingredients and 5 minutes to create a sweet concoction that's easily incorporated into your bathtime ritual.
Ingredients (5 servings)
5 oz frozen sweetened sliced strawberries
1 liter lemon-lime soda, chilled
6 oz frozen pink lemonade concentrate, thawed
4 tbsp fresh mint, roughly chopped
Strawberries, diced, optional topping
Lemon, sliced, optional topping
Directions
Puree the strawberries in a blender. Mix soda, chopped mint and lemonade concentrate in a large pitcher and stir. Pour the pureed strawberries into a serving glass to about a quarter full. Top with the lemonade mixture, and garnish with lemon slices, diced strawberries and mint leaves. Serve chilled.
Peach Mango Smoothie
Transport yourself to a tropical vacation with an energizing Peach Mango Smoothie. This brightly-colored concoction uses sweet peaches and tangy, ripe mangoes to pack a lot of flavor into one drink. The Whisk Affair blog hails their recipe as a glow booster thanks to all the antioxidants and vitamin C in the fruits.
Ingredients (2 servings)
1 cup peach, fresh or frozen
¼ cup ripe mango, peeled, cubed and frozen
¼ banana, chopped and frozen
1⁄2 cup low fat milk, chilled
3⁄4 cup low fat yogurt, chilled
1⁄2 tbsp honey
Directions
Add peach, mango, banana, low fat milk, low fat yogurt and honey to a blender and process until smooth. Pour the smoothie into a serving glass. Garnish with peach slices and fresh mint. Serve chilled.
Sparkling Cucumber Limeade
Cucumbers are the epitome of cool, crisp and refreshing. This recipe from Rachel Ray In Season livens up this classic flavor with tart lime juice, fizzy bubbles and fresh mint to create the idyllic bathtime drink. Chilled to perfection, sparkling cucumber limeade is an icy delight to sip when luxuriating in a warm, soothing bath.
Ingredients (2 servings)
1⁄2 cup sugar
1⁄2 tbsp lime zest, plus 1⁄2 cup fresh lime juice (2 to 3 limes)
2 tbsp fresh mint leaves, plus more for garnish
1⁄2 medium English cucumber, halved and thinly sliced
1 cup chilled sparkling water
Directions
Bring the sugar, lime zest and 1⁄2 cup water to a simmer over medium heat in a small saucepan, stirring constantly until the sugar dissolves. Remove from the heat and stir in the mint leaves. Let cool for 30 minutes. Strain the lime syrup into a pitcher and add the cucumber and lime juice. Chill for an hour. Serve in a glass filled with ice and top with the sparkling water. Garnish with mint.
Lavender-Infused Lemonade
Lavender has been found to calm anxiety and improve sleep. Simply Recipes infuses this herb into lemonade to concoct a relaxing, sleepytime drink. Sipping this floral-inspired brew during a bath can help you wind down before bedtime. Sweet dreams ahead.
Ingredients (2 servings)
A small handful of freshly picked and rinsed lavender flowers or 1/2 tablespoon of dried lavender flowers
1⁄2 cup sugar
1 cups of boiling water
3⁄4 cups lemon juice
1 cups cold water
Ice
Directions
Cut the lavender flowers from the stems and place in a medium bowl. Sprinkle the sugar over the flowers and gently rub it in. Pour the boiling water over the lavender sugar and whisk until the sugar dissolves. Cover and let infuse for at least 30 minutes. Strain the lavender-infused simple syrup and pour into a pitcher. Stir in the lemon juice, cold water and ice. Serve chilled.
Raspberry Arnold Palmer
In this recipe, The Complete Savorist blog puts a new twist on the classic iced tea and lemonade mix. Infusing fresh raspberries brings an extra sweetness to balance out the usual tartness, achieving the perfect symphony of flavors. Drinking this oldie but a goodie during your soak will elevate bathtime tenfold.
Ingredients (4 servings)
1 1⁄2 cups sweetened iced tea
1⁄2 cup lemonade
3 oz fresh raspberries
1⁄2 medium fresh lemon, sliced
Ice
Directions
Stir the iced tea and lemonade together in a large pitcher. Add 2 ounces of the fresh raspberries. Chill and let infuse for at least 2 hours. Serve in a glass filled with ice and stir.Garnish with freshly sliced lemon and fresh berries.
Sip Splash, Time For Takin' A Bath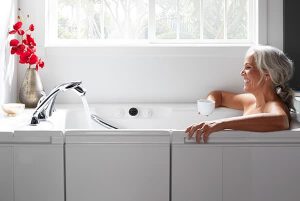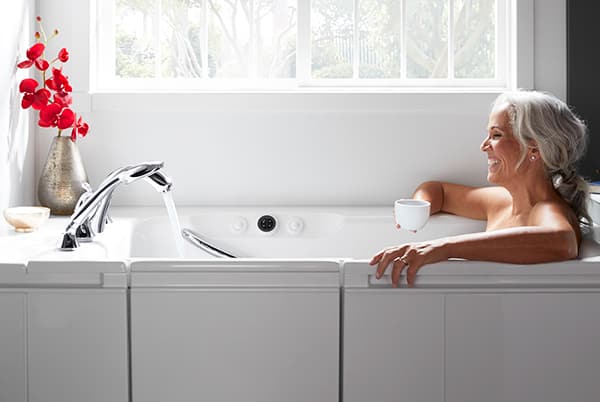 Bath time is meant for rest and relaxation. Sipping on a refreshing drink while you soak in the tub can help you find that blissful zone. The KOHLER® Walk-In Bath allows you to reach this state of tranquility every time (with or without a delicious concoction), as it's designed to deliver a spa-like bathing experience from the comfort of your home.
Schedule your free in-home quote today.
Contact Us