Meet KOHLER Walk-In Bath's New Shower Package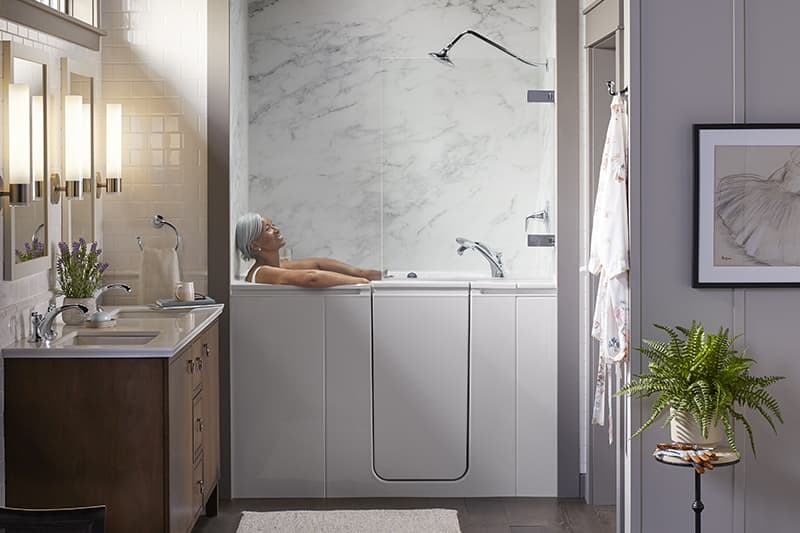 It's the launch you've been waiting for! The KOHLER® Walk-In Bath now provides the option for you to enjoy a safe, relaxing soak or a convenient standing shower with the exclusive Shower Package!
Featuring a gooseneck shower arm and KOHLER Bath Screen, the optional comfort feature combines your bath with a traditional shower for a more versatile experience. Learn more about the new shower tub combo option for the Walk-In Bath.
What Is a Shower Tub Combo?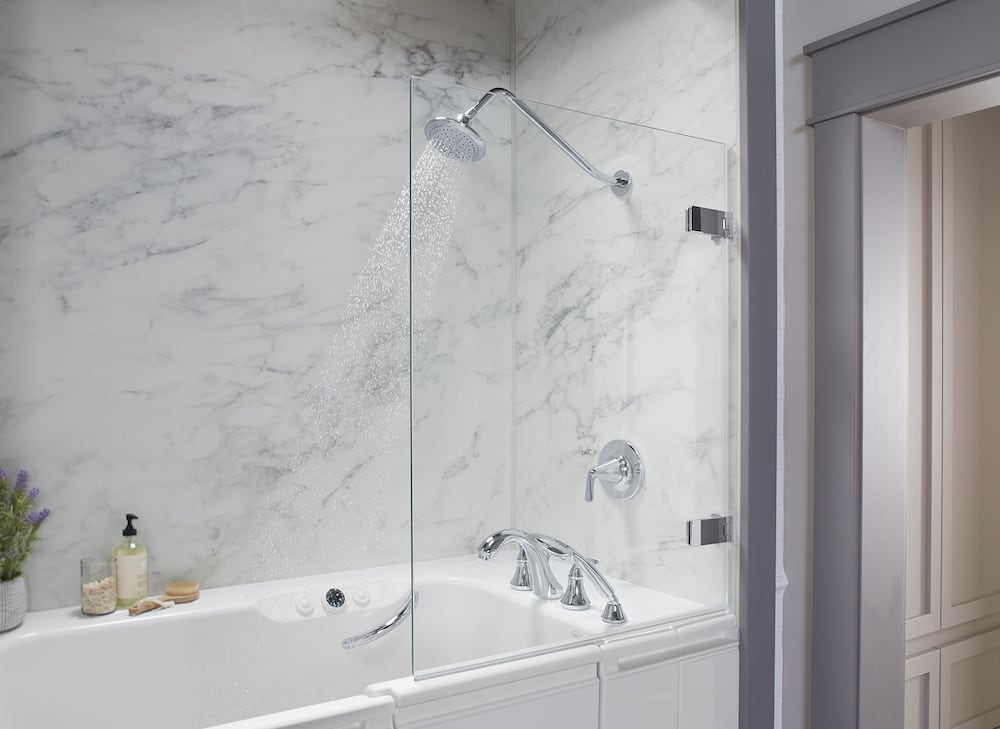 A walk-in tub shower combo is an accessible bathing solution that blends the safety and comfort of a walk-in bath with the ease of a shower. It delivers the best of both worlds, empowering you to soak in your personal spa-like bath or rinse off with ease and efficiency.
What Are the Benefits of a Walk-In Tub Shower Combo?
Encourages Aging in Place
A walk-in tub shower combo helps you enjoy safe, independent bathing without sacrificing the traditional shower experience you love. This makes it ideal for older adults and individuals with mobility challenges who wish to age gracefully in their own homes.
The low step-in of the tub allows you to effortlessly enter and exit the bath with confidence and security, while the overhead shower arm lets you shower while standing.
Works for All Ages and Family Members
The flexibility to bathe or shower depending on one's needs makes a combination tub suitable for everyone, from kids to seniors.
You can choose the bathing option that best fits your schedule or mobility on any given day, whether that's a relaxing soak in the tub or a quick, invigorating shower.
Saves Space
Sometimes you can't fit a separate bathtub and shower enclosure in a bathroom. This can be a problem if you only have one bathroom in your home or a small bathroom that you want both options in.
A shower tub combo can save the day by increasing the functionality of your space so you don't have to compromise on safety, comfort or convenience.
What Is Included In the Shower Package?
Gooseneck Shower Arm
Experience a refreshing standing shower with the gooseneck shower arm. The extended showerhead delivers a consistent, wide-coverage spray so you will feel refreshed and energized during every rinse.
To create a harmonious bathroom design, choose from a variety of showerhead finishes and styles that coordinate with LuxStone® bath walls, faucet finishes and bath colors.
Showerhead Finishes:
Polished Chrome
Vibrant® Brushed Nickel
Showerhead Styles:
Modern
Contemporary
Traditional
Bathing Tip: You've got two ways to shower now! The gooseneck shower arm lets you shower standing up, while the multifunctional handshower allows you to remain seated and pamper your neck and shoulders with three spray settings.
KOHLER Bath Screen
The Bath Screen adds a polished, modern look to your Walk-In Bath. Replacing a flimsy shower curtain, the durable screen is easier to clean and won't develop mildew over time.
Its clear, frameless design creates the illusion of more space and brightness, while keeping water contained inside the tub.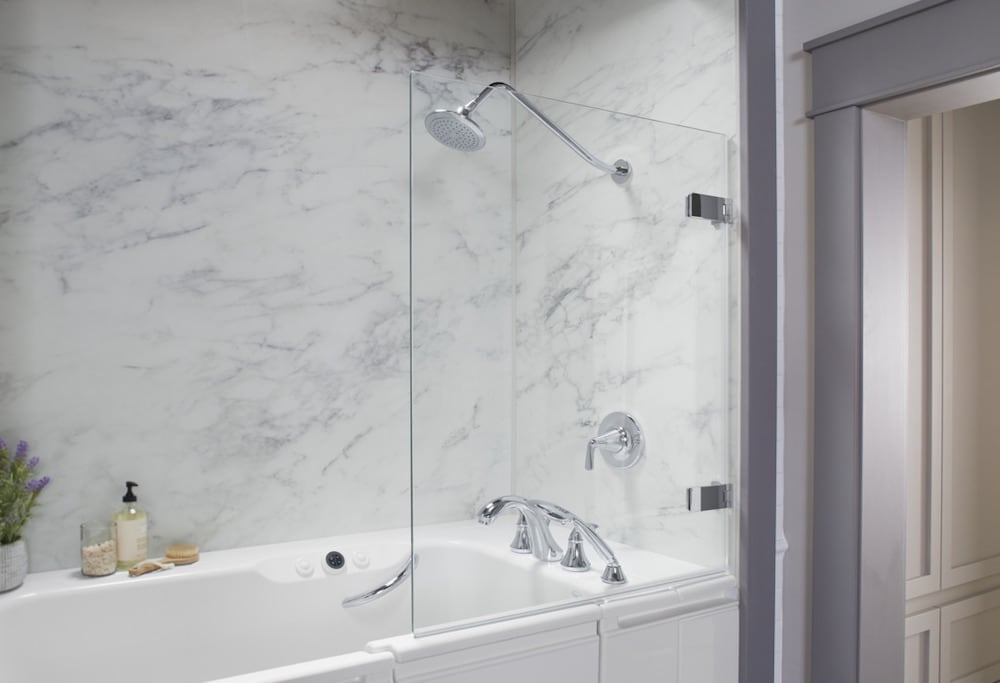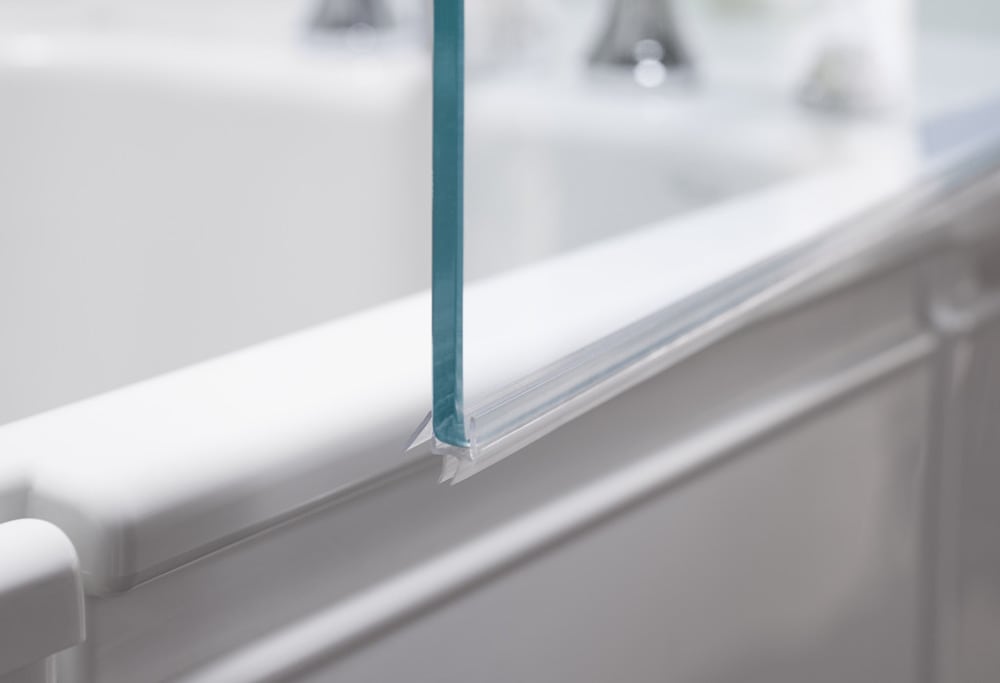 How Are Tub Showers Installed?
Transforming your Walk-In Bath into a tub shower combo with the Shower Package is easy—and so is the installation.
Since the gooseneck shower arm and Bath Screen are fixed to the bath wall, they will not affect the overall size of your new bath or take too much extra time to install. This means you can still expect for your KOHLER Authorized Dealer to install the bath and Shower Package in as little as one day.
One important thing to note is that Walk-In Baths that have been previously installed cannot be retrofitted with the Shower Package. This is because your KOHLER Authorized Dealer is unable to perform the additional plumbing work required to add the accessories.
How Much Does A Shower Tub Combo Cost?
The Shower Package is an optional purchase to the Walk-In Bath. The total price of your bath will be determined during your free quote.
KOHLER is unable to give pricing information over the phone or online because your bath is custom. For total transparency, you'll receive the exact cost down to the penny during your consultation so there are no surprises on installation day. Watch our Price Promise video to learn about our comprehensive quote process, or visit our Price Guide to discover what goes into the total cost of a walk-in tub.
How Do You Clean a Tub and Shower Combo?
Caring for your gooseneck shower arm and Bath Screen is just as simple as cleaning the other Walk-In Bath surfaces. Here's how to keep each accessory sparking:
Gooseneck Shower Arm
Apply Faucet Cleaner or a glass cleaner to the surface areas and wipe with a dry cloth. Rub spray face and nozzles with a soft, dampened sponge or cloth. Run the water for a minute or two to clear any remaining debris.
Bath Screen
The screen's pivot action allows you to clean the screen from both sides. Use a shower squeegee to clean the screen with Faucet Cleaner or a glass cleaner, and then wipe dry with a soft cloth. Keep the Bath Screen open to reduce mildew growth inside the tub.
To learn how to clean your Walk-In Bath from top to bottom, read our Bath Care Guide.
Enhance Your Bath with the New Shower Package
Add flexibility to your bathing experience with the exclusive Shower Package. You'll enjoy the safety and comfort of a Walk-In Bath, plus the ease of a shower.
Ask your KOHLER Authorized Dealer during your quote appointment about the Shower Package, or visit our FAQs to learn more.