What Is the Biggest Mistake People Make While Shopping for a Walk-In Tub?
When shopping for a walk-in tub, many people fail to consider the height of the threshold.
Walk-in tubs provide a safe and comfortable bathing experience for people of all ages and abilities. But not all are designed equal. In some models, the threshold can be as high as 7 inches, which makes entry more difficult.
Meanwhile, walk-in baths with a low step-in allow you to effortlessly enter and exit your tub with confidence and feel secure every time you bathe.
Read on to learn about the 3 benefits associated with a low step-in tub.
Why is a low base threshold so important?
Lowering the threshold in your bathtub design is becoming increasingly popular as more people plan to age in place comfortably and safely in their own homes.
A walk-in tub reduces the curb between the shower space and the rest of the bathroom, making it easier for people with varying levels of mobility to get in and out of the tub. In short, the low step-in design offers greater accessibility and stability without sacrificing style.
Safe Entry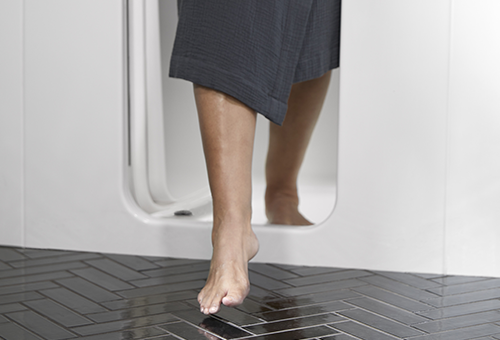 Traditional bathtubs can be as high as 24 inches, making it difficult to lift your leg over the side and increasing the risk of losing your balance. Alternatively, sunken tubs lack rail assistance as you step down. The safest option is a walk-in tub with a low-entry threshold, which allows you to effortlessly enter and exit the tub.
A low threshold helps to prevent slips and falls as you transition from standing to sitting by lowering the barrier between the tub and bathroom floor. For optimal security, combine a low step-in with handrails and slip-resistant surfaces to avoid hazardous falls.
Independence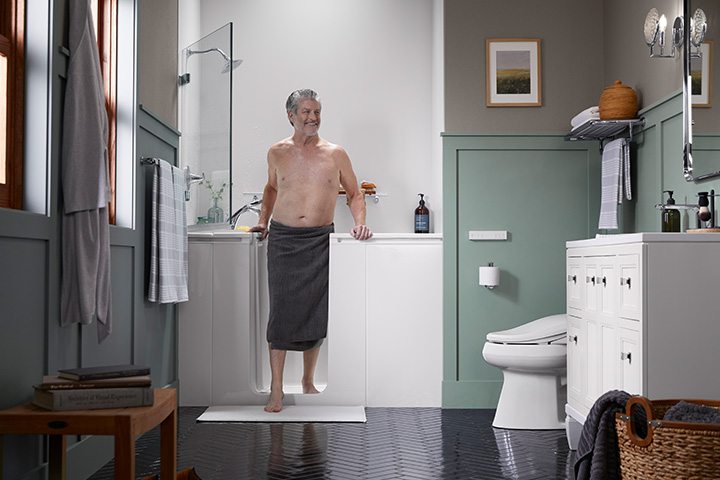 Designed for people with limited mobility, walk-in tubs create a more accessible bathing experience. With a low-entry threshold, you can bathe in privacy without assistance and maintain your independence in the home you love. When shopping for a walk-in bath, compare the threshold height to determine which is best suited for your needs.
Enhanced Style
An ultra-low threshold offers the appearance of one continuous floor space, which creates a sleeker and more spacious bathroom design. The ideal combination of function and style, this feature enhances your walk-in tub and complements all bathroom styles. Whether you plan to age in place or eventually sell your house, an ultra-low entry walk-in tub is a smart investment for your future.
Ready to enjoy an ultra-low step-in?
When selecting a walk-in tub for your home, consider one that allows you to safely step into your bath, every time. The The KOHLER® Walk-In Bath has one of the lowest walk-in thresholds on the market today at only 3 inches high. Its ultra-low entry is designed to provide an easy, accessible bathing experience so you'll feel confident stepping in and out of your bath.
To schedule an in-home presentation and quote appointment, contact us or call (800) 707-5276.