8 Romantic Bath Ideas for Valentine's Day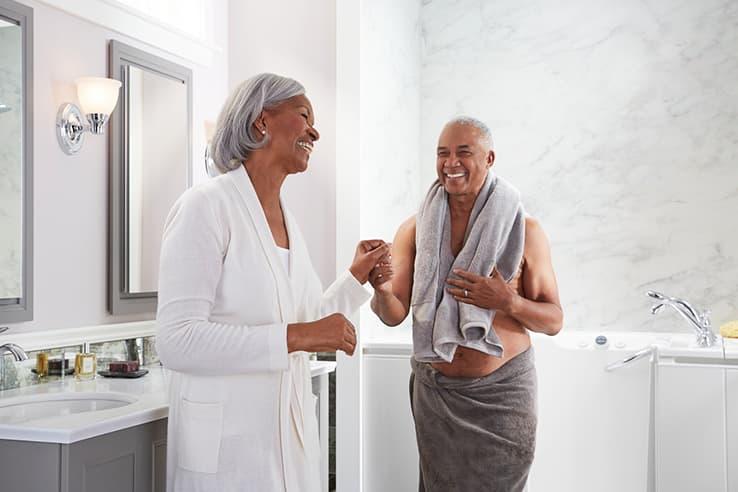 The day of hearts is about showing someone you care. While grand romantic gestures are thrilling, it's often the little things that make a person feel the most special.
This holiday, indulge in a romantic evening at home. A romantic bath is a tried-and-true way to bring a smile to your partner's face. These acts of service will melt their heart and have them swooning over the thoughtfulness.
Use these eight simple tips to create a luxurious spa experience your sweet won't forget. (P.S.: Single? These steps apply just the same! Go ahead and treat yourself to self-care).
1. Use Ideal Water Temperature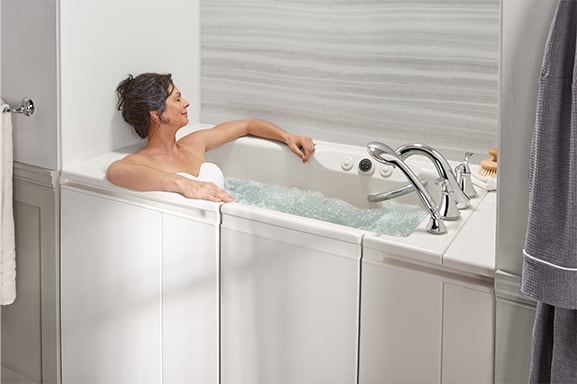 Add a little luxury to the evening by drawing a warm, soothing bath for your significant other. Not only will they appreciate the loving gesture, but they may also enjoy the numerous health benefits of warm water such as relaxed muscles, reduced tension and improved mood. In general, you'll want to set the temperature between 90°F and 105°F for the best experience.
2. Use Diffusers & Essential Oils
Romance is in the air. Aromatherapy can play a powerful role in relationships and creating intimacy. In fact, some essential oils are known for their aphrodisiac properties. The most popular scents that spark passionate feelings are classics like jasmine, rose, vanilla and lavender, as well as energizing fragrances like ginger, cinnamon, peppermint and sandalwood. This Valentine's Day, spice things up with one of these scents. Check out our tips for incorporating aromatherapy during bath time.
3. Turn On the Bubble Jets
Help your partner calm their mind and release tension with a soothing hydromassage. Jetted tubs like the KOHLER® Walk-In Bath create a spa-like experience with powerful hydrotherapy jets and BubbleMassage™ air jets, which surround the body in thousands of tiny, invigorating bubbles. The quiet, relaxing time will allow you to forge greater intimacy and connection with your partner.
4. Add Rose Petals
From their sweet scent to their delicate beauty, roses are the quintessential flower of love. Amp up the romance by drawing your partner a luxurious bath and sprinkling rose petals on top. While soaking, they can apply a milk and honey face mask to get glowing skin for a true home spa experience. This combination has been used in skincare since ancient times. In fact, the legendary beauty Cleopatra was believed to have bathed daily in a rose, honey and milk mixture. Earn partner of the year by pampering your other half like royalty on this special day.
5. Play Music in the Background
Much like love letters, mixtapes were once a go-to way of expressing your love to that special someone. Let's bring them back. While your partner is soaking in the tub (rose petals and all), play important songs from your relationship to help them relax and walk down memory lane. Get inspiration for your Valentine's Day mixtape by listening to our bath playlist of relaxing music below.
6. Set the Mood with Proper Bathroom Lighting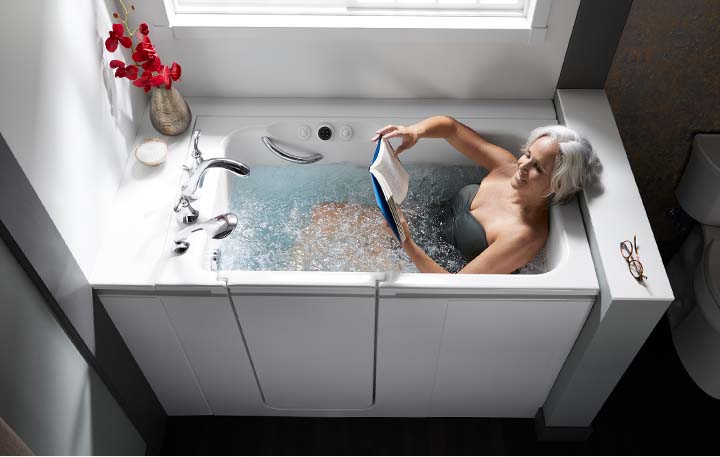 Lights can make or break a romantic atmosphere. Factors like color temperature and brightness affect the bathroom's ambiance. For a relaxed, sensual vibe, dim the lights and keep them on the warm end of the spectrum with gentle red or soft pink lights. Once date night is over, you can return your bathroom lights to their optimal daytime settings. Learn how here.
7. Light Some Candles
No date night is complete without the soft glow of candles. The dim lighting helps set the mood for a romantic evening, bringing intimacy and tranquility to bath time. Choose an unscented or lightly scented candle if you add essential oils so the fragrances complement each other. For your safety, place the candle on a flat and stable surface where it won't be accidentally knocked over. 
8. Create Refreshing Drinks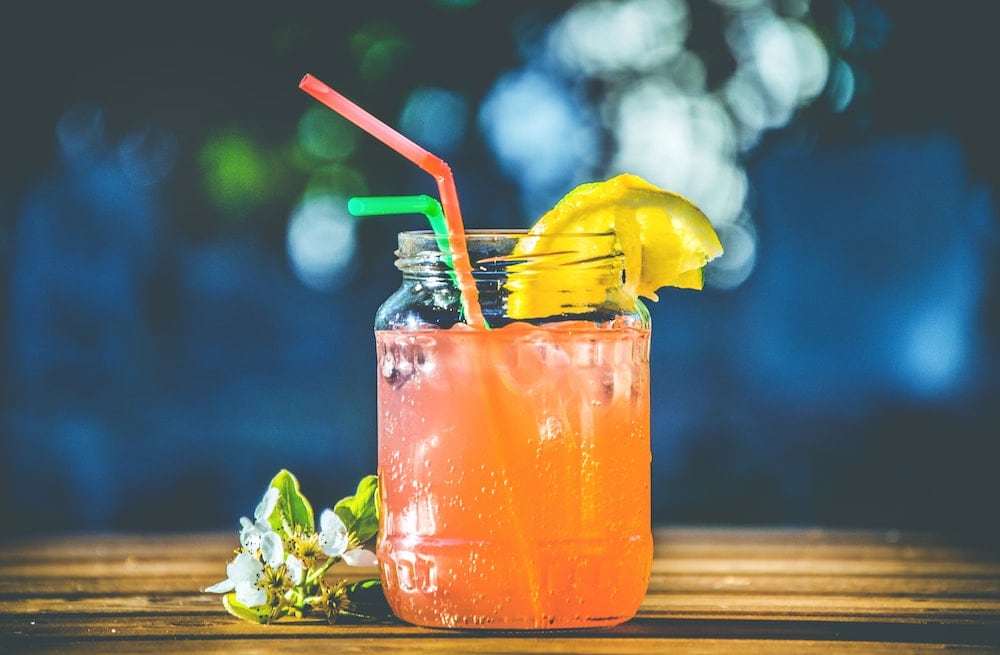 Raise a glass to an evening of romance with a cold refreshing drink in the bath. The cool beverage provides a pleasant contrast to the cozy bath for an invigorating sensory experience. Put your own Valentine's Day twist on our favorite zero-proof drink recipes.
Fall In Love With Your Bath Experience
Valentine's Day is the perfect time to show your partner that they are loved with these romantic bath ideas. Give them the luxurious spa experience they deserve in a bath they'll love. The KOHLER Walk-In Bath features a low step-in, hydrotherapy jets and a heated backrest to keep you safe and comfortable for your best date night ever. We hope you have a wonderful Valentine's Day!