What Type of Lighting Is Best For Your Bathroom?
To create a comforting and relaxing atmosphere in your bathroom, pair a warm LED light bulb with a vanity light that matches your style. Explore this blog post to find the best bathroom and mirror lighting for you.
Which Light Bulb Gives Off The Best Light?
When you shop for light bulbs, consider two factors: lumens and watts. Lumens are the amount of light that a light bulb emits, which is often considered the brightness. Watts is the amount of energy that a light bulb uses, which also determines how much it impacts your electricity bill. To find a light bulb that gives off the best light, purchase light bulbs with a higher lumen rating and a lower wattage. 
Look for light bulbs that are easy on the eyes and provide sufficient light for the space. For comfortable spaces, such as living rooms or bathrooms, CNET recommends light bulbs in the soft white to warm white color temperatures.
Let's talk about some of the best types of light bulbs for your bathroom.
LED Bulbs
According to the U.S. Department of Energy, LED light bulbs can last up to 25,000 hours, which significantly outlast traditional light bulbs. Therefore, LED light bulbs are some of the best bathroom fixture bulbs because they are energy-efficient and less prone to overheating.
Halogen Light Bulbs
Although halogen light bulbs are technically a type of incandescent light, they are more efficient than standard incandescent bulbs. Also, halogen light bulbs are normally cheaper than LEDs. However, halogen light bulbs are more prone to overheating and don't last as long as other bulbs.
Incorporate Natural Light
Natural light can enhance your bathroom lighting by making the space feel more open and vibrant. To get the best lighting for your bathroom, utilize natural light by ensuring that nothing is blocking your windows. Better Homes & Gardens recommends using shutters with opaque glass to optimize the room's natural light.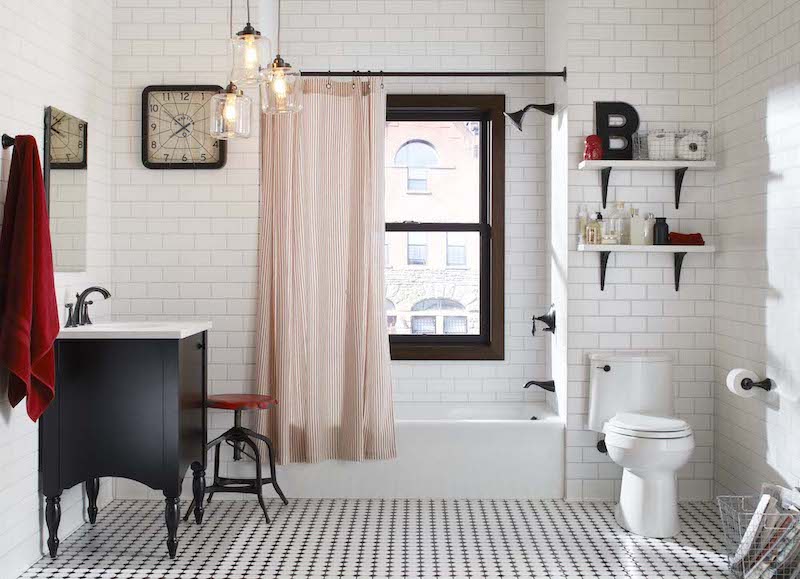 Also, choose a paint color for your bathroom that will reflect the natural light seamlessly, such as a pastel or neutral. The right paint color can help your bathroom feel bright and refreshing.
Vanity Light Ideas
Vanity lighting is important for everyday self-care activities, such as shaving, applying makeup, or skincare.
Cage Lighting
Cage lighting is simultaneously elegant and minimalist, providing enough light for your bathroom without being overwhelming. Cage lighting often pairs well with any wood or rustic patterns in a bathroom.
Bar Lighting
Bar lighting consists of a bar with lights attached to it or a single bar that emits light. Bar lights are a great space-saving option to place above your bathroom mirror.
Bath/Shower Lighting
If you want to increase light in your shower or bathtub, install light bulbs in the ceiling or on the walls outside of your shower. Both options are out of the way of water flow, but close enough to provide light.
Overhead Lighting
LED lights are also a great option for shower lighting because they emit in one focused direction. For optimal overhead lighting, try adding some LED lights into the ceiling of your bath or shower.
Looking for some bathroom design inspiration? Try our Kohler Ideas site or check out our latest blog about 2021 bathroom trends.