How to Prepare Your Bathroom For Guests
Want to know how to prepare for guests during the holiday season? Try adding some personal touches like spa products, new candles, and relaxing decor. Follow this guest prep checklist to make your guests feel relaxed and welcome in your home.
Repair Any Fixture Issues
If you need to repair any issues in your bathroom, you'll want to fix them before the guests arrive. Whether it's a small repair such as a leaky showerhead or a running toilet, fixing problems in your bathroom is the first step in ensuring that your guests feel at ease in your home. Be sure to give yourself enough time for any unexpected factors in the repair process.
Deep Clean Your Bathroom
Before the guests arrive, take the time to deep clean your bathroom. Sort through any unused items under the sink and thoroughly clean bathroom walls and fixtures.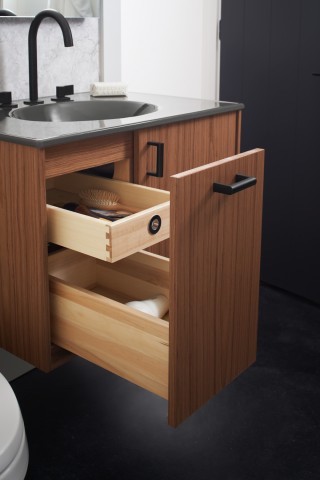 Try adding some new storage items to organize your bathroom, such as a bar cart or a storage ladder. After you clean and reorganize, you'll know what guest bathroom supplies you need to purchase next.
Add Clean Towels
Clean towels are essential in helping your guests feel right at home. Whether you store them in the guest room or the bathroom, letting your guests know where they can find the towels will help them relax. You can also add the clean towels to a toiletry basket for your guests with other items such as toothpaste or soap.
Have Spa-Like Products For Your Guests
Curious about how you can make your guest bathroom feel luxurious? Create a spa-like atmosphere to help show your guests how much you value their comfort and peace. Spa products, such as Turkish bath linens or touchless soap dispensers, are great guest bathroom accessories.
Include New Candles & Scents
Candles and scents can help your guests feel comfortable in your home. With candles and diffusers in your guest bathroom, you can use aromatherapy to help everyone de-stress and enjoy quality time.
The holidays are a great time to add new candles or scents to your bathroom to match the holiday festivities. Want to create a winter wonderland in your bathroom? Try adding a pine tree- or flannel-scented candle. Or, throw in a lavender or vanilla scented candle for a warm, relaxing feeling.
Update Decor
Since you're preparing for guests, now is a good time to paint your bathroom walls that new color you found. Bathroom paint colors can help update the decor and change the mood of your bathroom.
New bathroom decor is also a fun way to celebrate the season. You can add some pumpkins or leaves to help bring in the fall season and Thanksgiving. Whatever the season, whatever the holiday, updating your decor will help involve your guests in the fun.
If you want to add some style to your bathroom, look no further than Kohler. From our walk-In baths to our patterned wall designs, we offer plenty of options for you to customize your guest bathroom for the holiday season.