Bathroom Trends 2021: The Latest Designs & Décor for Modern Bathrooms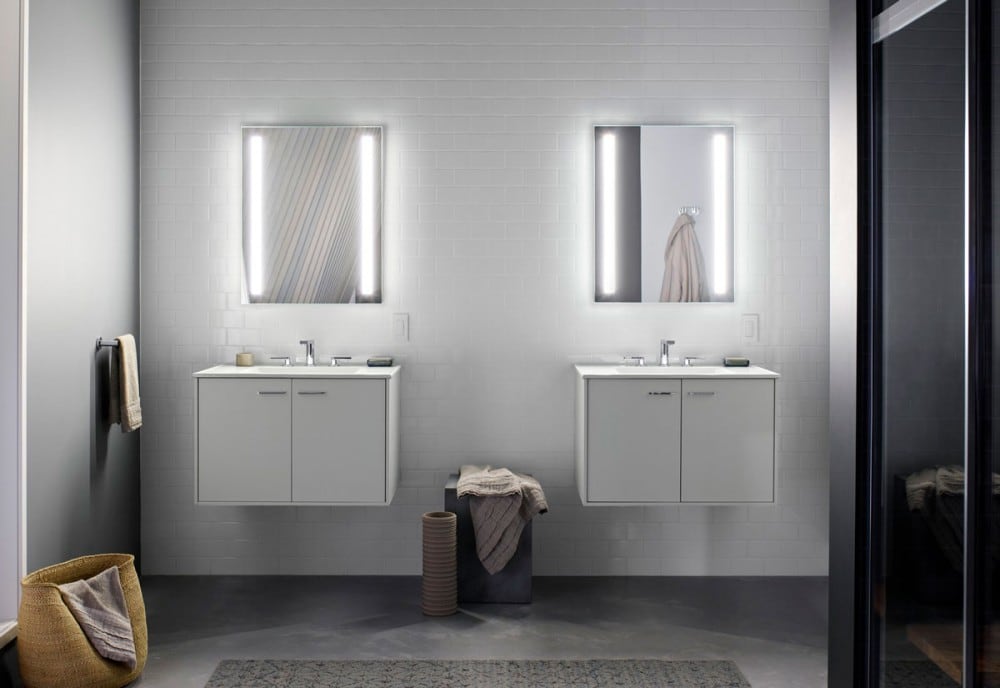 We're all craving a fresh look after spending much of 2020 inside our homes. Thankfully, the new year is fast approaching so it's once again time to dive into the top bathroom design trends.
Find inspiration from the new bathroom décor expected to be found in every home. From brushed nickel to subway tile, here are the five bathroom decorating trends to keep on your radar in 2021.
1. Brushed Nickel Faucets
Faucet finishes are an important design element that shouldn't be overlooked. 2021 will bring back a timeless silver-tone metal: brushed nickel. This finish trend remains popular for its softer, more matte appearance that will complement any trend at the moment.
You can incorporate this sought-after fixture finish in your bathroom as an accent piece. For example, Vibrant® Brushed Nickel fixtures can add a subtle sheen when paired with a classic white KOHLER® Walk-In Bath and neutral bath walls.
Learn how to design your walk-in bath with brushed nickel hardware to recreate this up-and-coming modern bathroom design.
2. Marble Countertops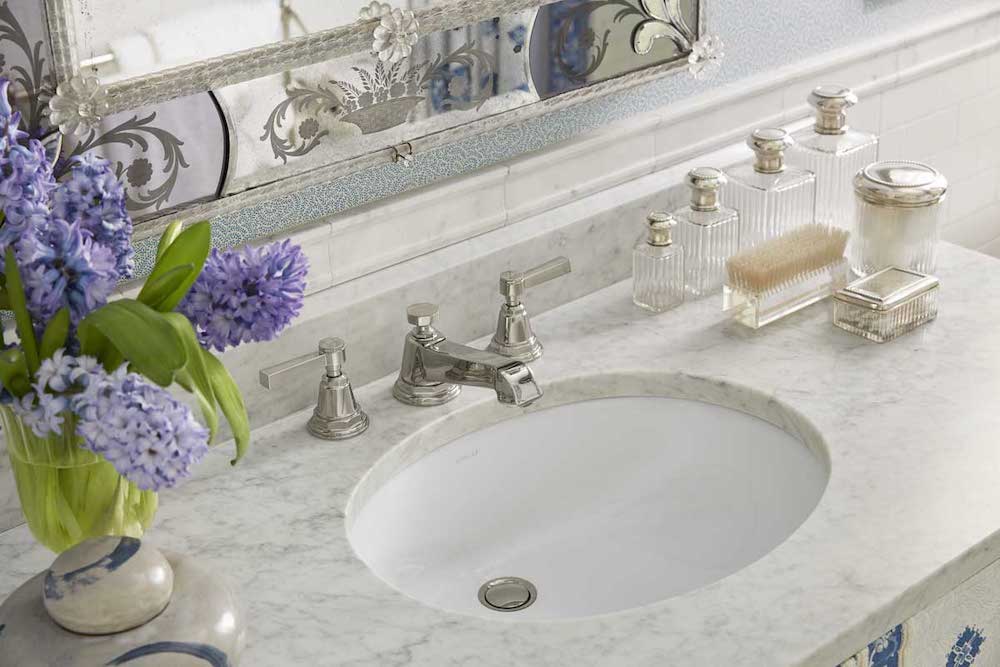 Marble countertops are making a comeback. This elegant stone material adds classic sophistication to your bathroom, transforming your space into a luxurious, spa-like oasis. The wide range of bright hues and striking veining patterns gives marble the versatility to fit in with almost any modern trend.
Marble isn't only for countertops; it also looks beautiful as an accent wall. Recreate the look of expensive stone in your walk-in bath with Calacatta Crema bath walls. Featuring grey veining over a bright white base, the stone-inspired design brings timeless style to your bathroom.
3. Lighted Mirrors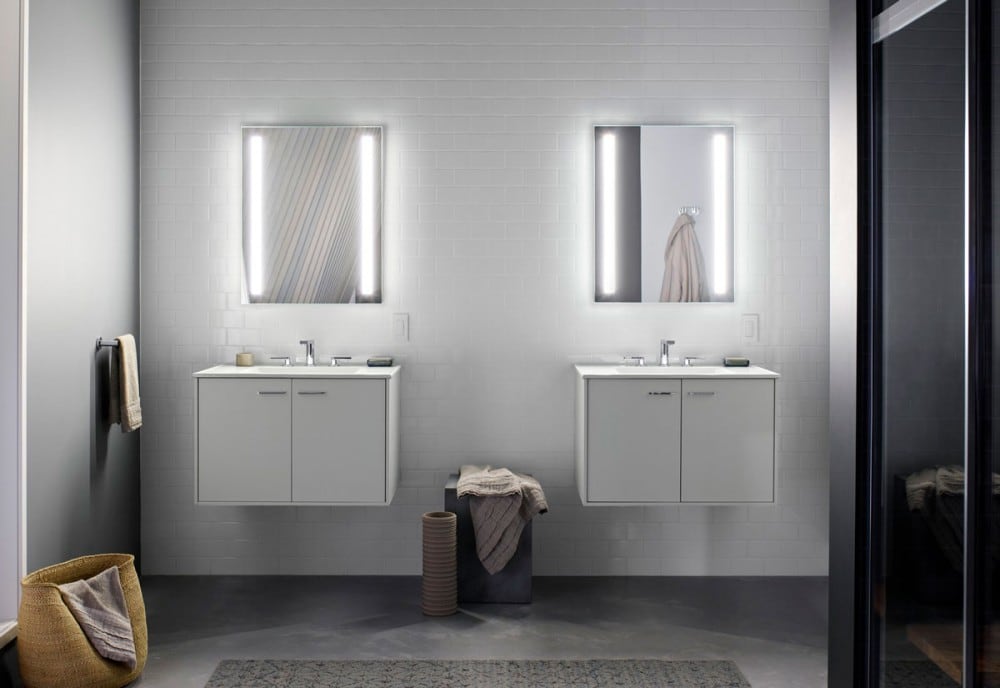 In this age of convenience, multifunctional products are in demand. A lighted mirror packs a powerful punch as practical, attractive task lighting in your bathroom. Both decorative and functional, it illuminates the room while creating the illusion of more space.
Mount a rectangular, LED-lighted wall mirror above the sink to add a modern flair and create an optimally bright glow that mimics daylight for makeup application, grooming tasks, and skincare routines.
4. Wall-Hung Vanities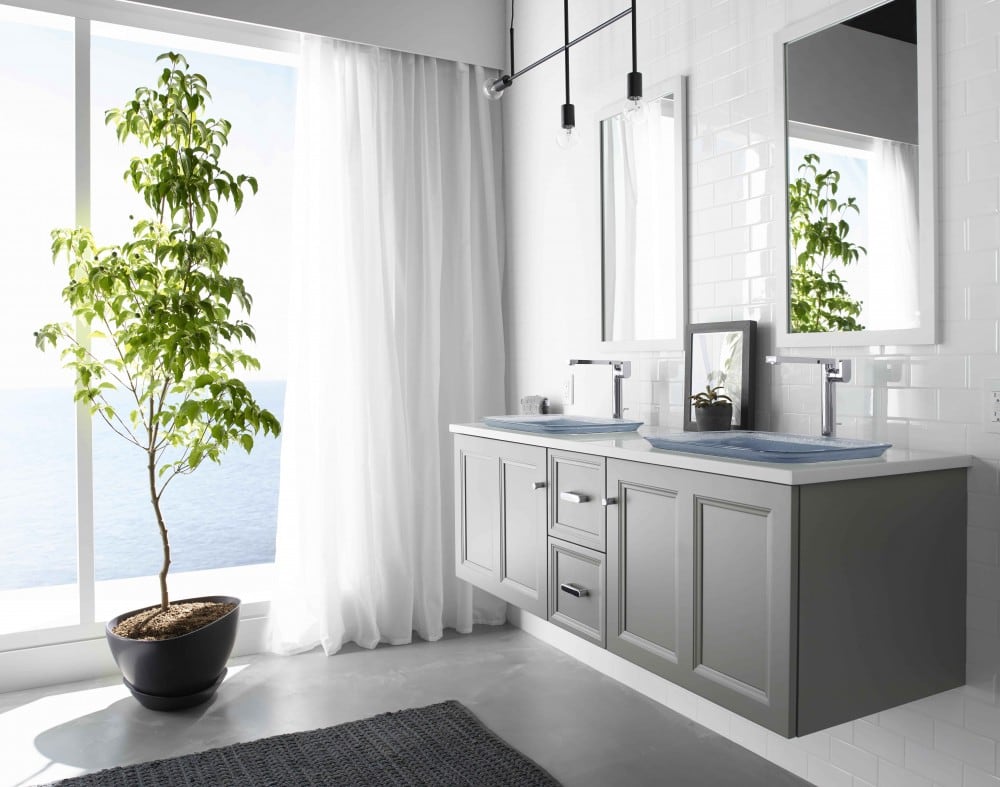 Wall-hung or floating vanities aren't new to the spotlight—and that's a good thing! This bathroom vanity trend is here for the long haul, which makes it a good long-term investment for a bathroom update.
We suggest pairing a more traditional vanity design with a contemporary wall-mount installation to keep the space from becoming too stark. In the room pictured above, the clean, straight lines and neutral color palette work in harmony to create a balanced, streamlined look. Opt for twists on classic designs and décor to refresh your bathroom with an enduring vanity trend.
5. Subway Tile
Durable, classic and endlessly versatile, subway tile will dominate bathrooms in 2021. The trend made its debut in 1904 but remains a classic tile design for the various patterns, arrangements, colors, and sizes it's offered in.
To give the tile trend a modern update, embrace a monochrome palette. White subway tiled walls contrast the black tiled floor to create a sleek, minimalist look. Tie everything together with black and white décor and accenting brushed nickel fixtures.
Design Your Dream Bathroom in 2021
The bathroom is where you start and end your day, so it deserves some extra thought to keep it fresh. Reimagine your space with some of the most notable bathroom design trends of 2021 today.
Customize your walk-in bath with the top design trends in mind.
Contact Us