How to Organize Your Bathroom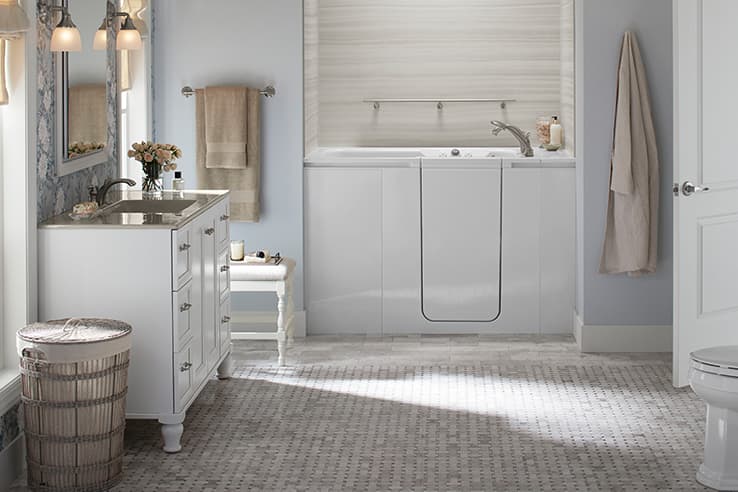 The bathroom is one of the most functional rooms of your home, but is it as functional as it could be? If you find yourself shoving your hairdryer wherever it will fit or digging through your drawers to find a new contact case, you might need some bathroom organization tips.
You're in luck! No matter how big or small your bathroom is, we have 8 tips to help you get organized, declutter, and save yourself time in the process. Get some inspiration and find the perfect bathroom storage and organization tips below!
1. Declutter Your Bathroom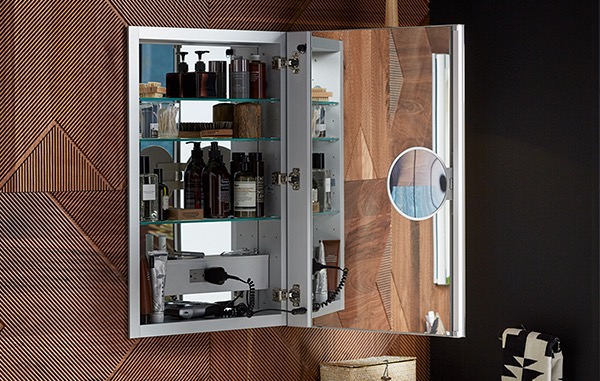 Before implementing any new bathroom storage solutions, take time to declutter. With all the things you no longer need out of the way, you can start organizing with a blank slate! Here is a quick list of the most common clutter culprits to toss or donate:
Expired medicine (most pharmacies will safely dispose of it for you)
Expired makeup, nail polish, and skincare products like sunscreen
Worn out makeup brushes and hair accessories
Any items like washcloths, towels, or hair care tools you no longer use or are past their prime
Any decor items that no longer match your bathroom
Combine those almost-empty bottles of shampoo, conditioner, and body wash and recycle the empty bottles
Going forward, you'll store your remaining items with similar items. For instance, all of your hair care products and tools should be stored together. This will make finding those items easier than ever, and having a dedicated area means never asking, "where should I put this?" again!
2. Over-The-Door Organizers
Over-the-door organizers are a tried-and-true bathroom organization solution and a great place to start. Whether you want to store towels and other linens or hygiene and styling products, this is a great way to cut through the clutter!
Another benefit of over-the-door organizers is their accessibility and the variety available. You can find them in nearly any store and any style. From metal hangers with shelves to cloth options with pockets, you're sure to find the perfect one for your needs and your bathroom decor.
3. Repurpose a Bar Cart
Whether you buy a new bar cart or find a unique vintage one, you'll love adding this to your bathroom. A bar cart provides 2-3 storage shelves and the handlebar doubles as a towel bar, providing a lot of extra storage space. But the real appeal of a bar cart is its portability. Portable storage is extra handy, especially if you're short on storage space or you ever need to move things between your bathrooms. It also makes cleaning your bathroom easier since you can wheel it out when it's time to mop!
Another reason to love bar carts is the fact that they're decor chameleons. Whether your bathroom is bold and contemporary, classic, or even farmhouse, you can find a bar cart to match.
4. Put Up a Storage Ladder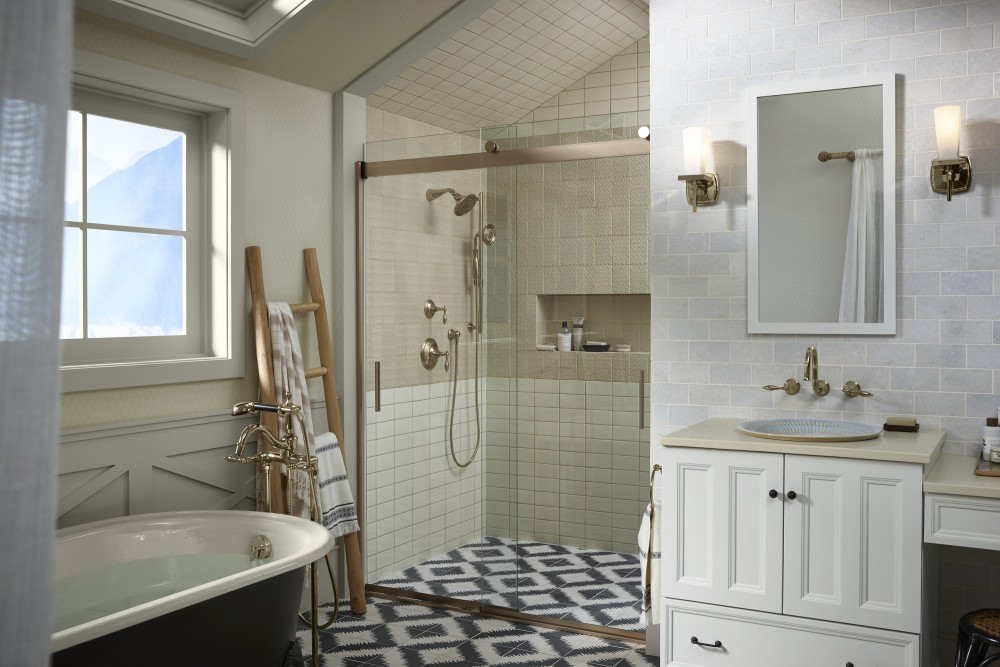 Storage ladders are a stylish option for vertical storage in the bathroom. Wide rungs can provide shelving, while narrow rungs are great for hanging towels, baskets, or other containers. You can place the ladder over your toilet or lean it against a wall, depending on your space.
This is another option that can fit a variety of decor styles. A wooden storage ladder looks great in farmhouse bathrooms, while a sleek metal ladder looks right at home in a modern bathroom.
5. Invest in Shower Storage
If you're simply using the sides of your tub or your shower floor as storage, it's time to upgrade. Keep your shampoo, conditioner, and body wash easy-to-reach in the variety of in-shower organizers available. From shower caddies, both fixed and portable, to shelves, there are a variety of options to fit any style and budget!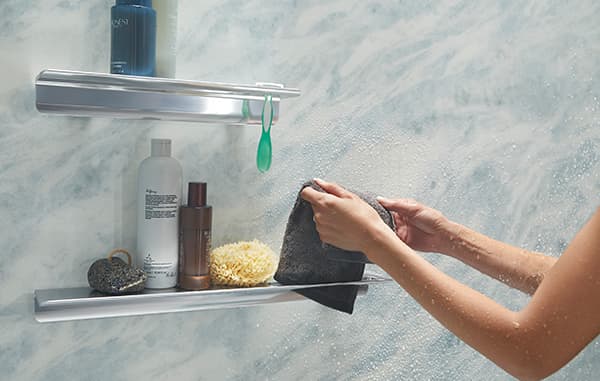 6. Hang Storage Baskets
This is a classic bathroom organization solution and for good reason. Available in a variety of sizes and styles, hanging baskets are a versatile option. From wicker to metal to fabric, you can choose the perfect size and style for your bathroom decor.
Hang small baskets on the inside of your cabinet doors to hold hygiene products and hair tools, or place medium or large baskets above your toilet to hold extra towels, linens, and toilet paper. You can also hang baskets over the door or on the sides of your counters.
7. Try a Lazy Susan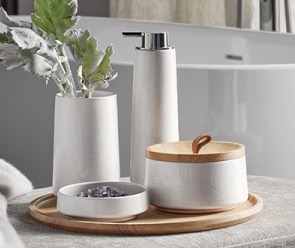 When most people think of lazy Susans, they think of the kitchen. But they're also very handy when it comes to organizing your bathroom! A tiered lazy Susan is perfect for storing beauty and hygiene products for easy access. While they're typically stored in cabinets, they can also look great on the bathroom counter.
Look for lazy Susans specifically designed for the bathroom. This type of organizer is typically made of easy-to-clean plastic or acrylic and will have high sides so small bottles don't tip over, along with smaller compartments for makeup brushes and cotton swabs. On the other hand, a flat wooden lazy Susan is perfect for holding larger items like soap and lotion pumps.
8. Divide Your Drawers
We're talking about drawer dividers, of course. They can be used in any of your bathroom drawers to sort makeup, hair accessories (where do all those bobby pins go?), hygiene items, and any other small items that have a way of getting unorganized quickly.
Like lazy Susans, look for easy-to-clean acrylic or plastic drawer dividers. For a personalized touch, add drawer liner or vinyl labels so everyone in your family knows where things go.
9. Grab a Towel Hamper
Dirty towels on the floor instantly make even the most organized bathroom look messy. If you don't already have a hamper in your bathroom, adding one ensures every used towel, washcloth, and bathrobe have a clear-cut place to go. This is one of the easiest ways to organize your bathroom, and it'll make laundry time easier, too. If it's in the bathroom hamper, it goes to the washer!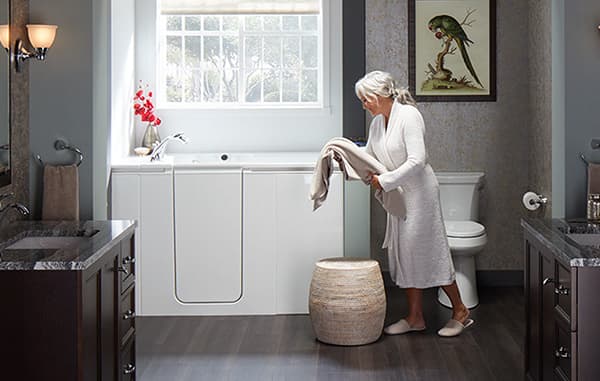 When everything is in its place, reward your hard work with a relaxing soak and a tasty treat!
Contact Kohler to request a free quote today.
Get Started