How to Get Your Bathroom Aging-In-Place Ready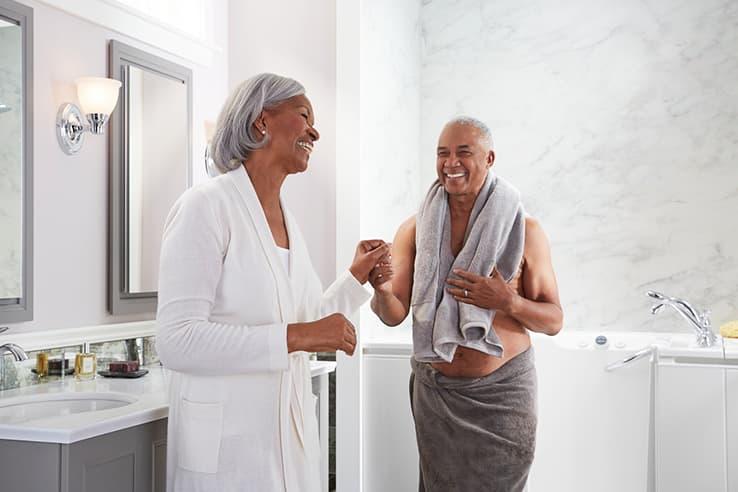 Aging in place is a concept that a lot of families have been recently choosing over assisted living services. It essentially means independently, comfortably, and safely growing old in your home and around everything you're accustomed to regardless of age, income, or ability. Aging in place not only preserves the emotional attachment you have with your home, but it also saves money on costs of assisted living. This explains the AARP study that found that 90 percent of people age 65 and over would prefer to stay in their own homes as they get older.
Although many people prefer to grow old in their homes and around their families, they face barriers that might prevent them from that. The biggest barrier being that their homes are not as equipped as assisted living facilities to accommodate the changes that naturally come with aging.
90 percent of people age 65 and over would prefer to stay in their own homes as they get older.
In order to successfully care for yourself as you grow old in your home, you have to lay the groundwork and make sure your home is well prepared. One of the most important places in your home when planning ahead to age in place, and where assisted living facilities differ the most from your home, is your bathroom. At Kohler, we live by the concept of gracious living and strive to help our customers experience it day in and day out. That's living a tasteful, graceful, and fulfilling life that ensures your happiness, independence, and a healthy lifestyle.
To achieve gracious living through your aging in place journey, and help you keep the emotional connections that you have with your house and your community, we put together a list of tips that will help you age gracefully in your own home. From something as simple as adding illuminated switch plates to help you locate light switches in the dark, to switching your old bathtub with a new walk-in tub, there are so many things you can do to prepare your bathroom and maintain your quality of life.
How to prepare your bathroom for aging in place
Lighting
Ensuring your bathroom is well lit is essential to aging in place. Overhead lighting casts shadows and might prevent clear visibility in your bathroom. Instead of overhead lighting, try to add eye-level lighting in your bathroom and make sure the light is coming from different directions. The more sources of light you have coming from different angles, the better visibility you have for every part in your bathroom. You can also replace your light switch plates with illuminated ones to help you locate them in the dark.
Another way to add nighttime visibility is to install an illuminated toilet seat in your bathroom. There's nothing worse than having to use the bathroom in the middle of the night, and adding an illuminated toilet seat to your bathroom would make using the bathroom at night much easier.

Floors
Floor safety is crucial when preparing your home. Make sure your bathroom has slip-resistant flooring, especially around your tub or shower and toilet. There are many options to ensure that your floor is not slippery: you can use a rubber-backed bath mat, coat your existing floor with non-slip tile treatment, or replace your bathroom floor with non-slip tiles.
Bathtubs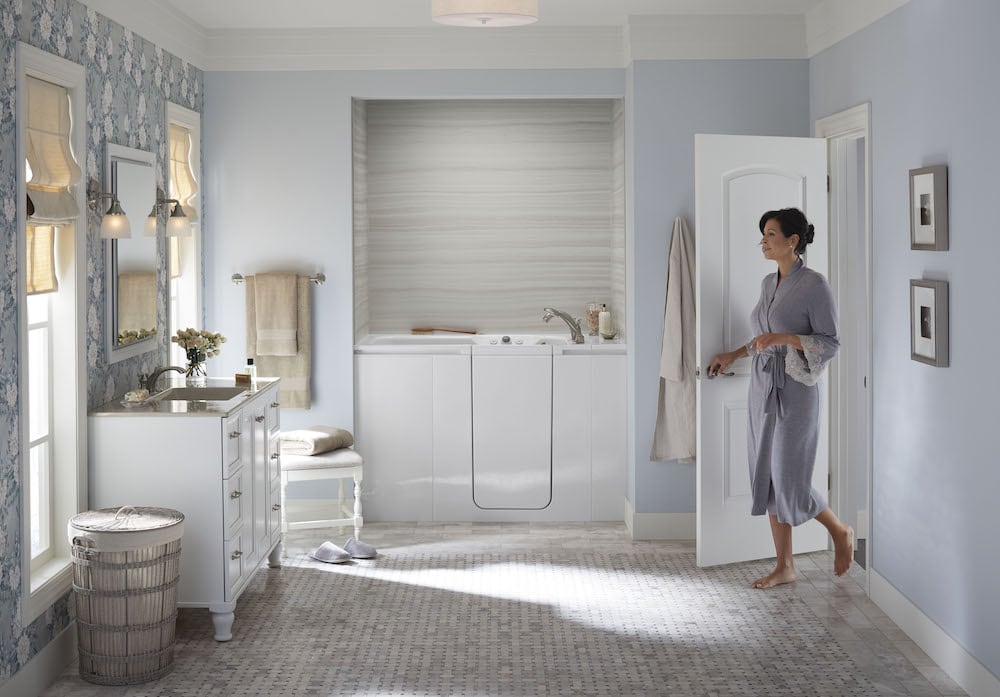 Unfortunately, most bathtubs are not designed to be accessible. One of the best things to do to prepare your bathroom for aging in place is installing a new walk-in tub in your bathroom. The best walk-in bathtubs feature a low step-in, wide door, and handrails. This ensures superior accessibility for independent and safe bathing.
The KOHLER® Walk-In Bath has one of the lowest step-ins in the industry, and it also includes hydrotherapy whirlpool jets that deliver powerful massage to your back, legs and feet. Each feature is designed to add independence, safety and comfort, and help you prepare for your aging in place journey.
Other areas to consider

Toilet
Make sure your toilet is properly adjusted to the height that's most comfortable to you. Modifications to consider are an elevated toilet seat with arms, adding a bidet to your existing toilet for improved personal hygiene, or investing in a new toilet that is designed for increased accessibility.
Faucet
If you think your conventional turn-knob faucets may cause problems, consider single-handle faucets. They are much easier to control and are typically more efficient. You can also install automatic and sensor bathroom faucets or even a foot pedal faucet to make your faucet completely hands-free.
Grab Bars and Handrails
Adding grab bars and handrails in your bathroom gives you leverage and ensures that your bathroom experience is independent and self-sufficient. Install grab bars near your toilet, shower and other high-traffic areas in your bathroom.
Tips for making modifications to your home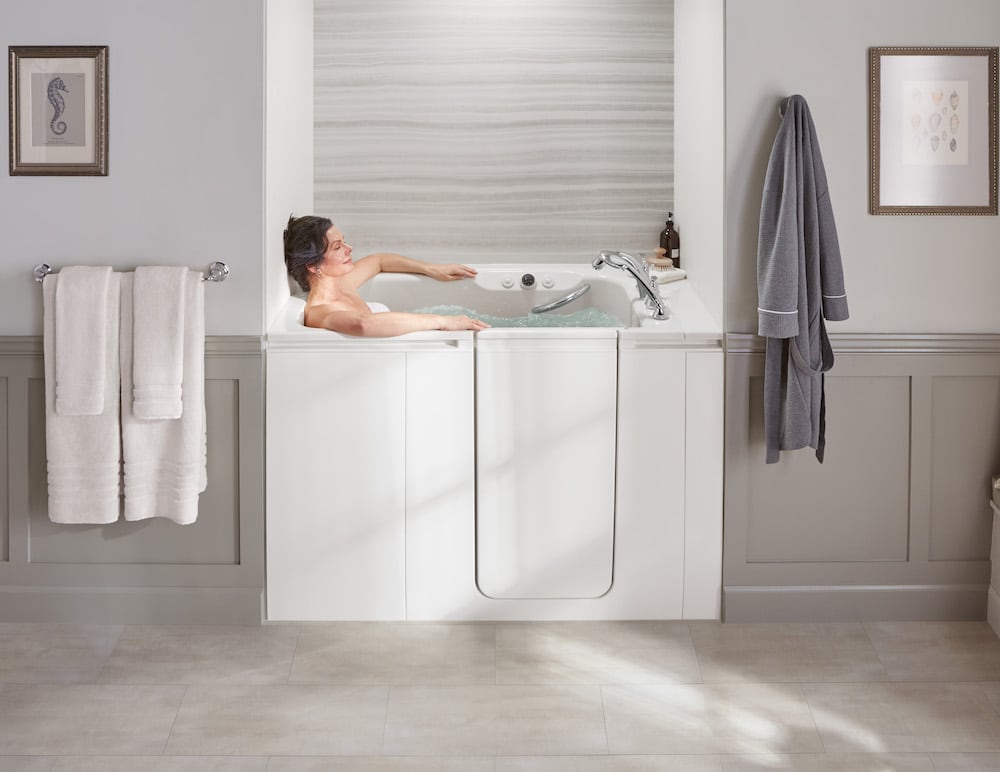 When redesigning your home or looking for ways to prepare for aging in place, look for ADA-certified products. These are products that are designed to provide accessibility and independence while maintaining safety and comfort. 
If you are working with an interior designer, ask about universal products or universal design, which is the design of places and products to make them accessible to all people, regardless of age, ability, and other factors. Universal designs for your home may include no-step or low-step entryways, wide doorways and hallways, non-slip flooring and reachable controls and switches. 
Additional resources for aging in place
While you may have worries about the associated costs of making modifications to your house, there are many resources and options available. If you have questions about grants and financing options, read our blog about Medicare and other financing options that might be available for you.
There are many things that you can do to prepare your home for aging in place. A good place to start to ensure a safe, independent, self-sufficient life is your bathroom. Explore our bath safety guide for more ways to prepare your home for aging in place.
Start your aging-in-place journey with a free quote.
CONTACT US