How to Celebrate National Senior Health & Fitness Day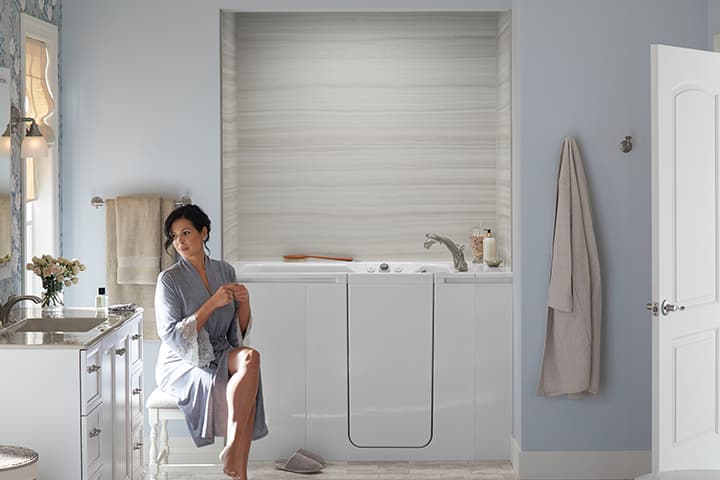 The 26th annual National Senior Health & Fitness Day, the nation's largest annual health and wellness event for older adults, is this Wednesday, May 29. Its mission is simple: "to help keep older Americans healthy and fit."
We encourage you to be one of the 100,000 seniors expected to join in the activities at more than 1,000 locations throughout the U.S. From low-impact exercises to health screenings, you can enjoy a day full of fun and informational activities designed to inspire you to incorporate fitness and wellness into your daily life.
This year's National Senior Health & Fitness Day theme is "Live and Thrive with Exercise."
Gracious Living at Every Age
One way seniors can maintain an active lifestyle is by investing in their long-term health and wellness. This includes designing their home for independent living. At Kohler, we've designed our walk-in bath with safety and comfort features to help you continue to live in the home you love for years to come.
Let this National Senior Health & Fitness Day help motivate you to start planning for your future. Read on to learn about the therapeutic qualities of the KOHLER® Walk-In Bath that help seniors keep and maintain their active lifestyle.
Hydrotherapy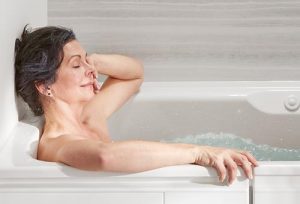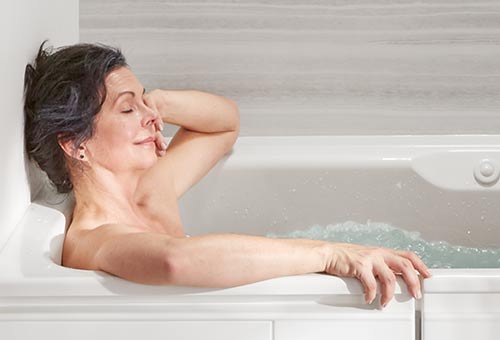 Massage away pain and soreness. As a popular rehabilitation technique, hydrotherapy is beneficial for everyone from injured athletes to patients recovering from surgery to seniors with mobility issues. The Walk-In Bath is engineered with 10 whirlpool jets designed for optimal therapeutic pressure that massages the back, legs and feet to relieve tension. After a luxurious soak, you'll be ready to practice your serve on the tennis court.
Heated surfaces
Soothe with heat. Further relieve your tension when you nestle into the Bask® heated backrest. Targeting your back, shoulders and neck, these surfaces keep you warm and comfortable with three levels of heat. At the touch of a button, you can control the degree of warmth so the heat penetrates deep to relieve strained muscles. Enjoy your new sidekick to a long day of gardening.
Multifunctional handshower
Target sore muscles. The multifunctional handshower puts you in control of your bathing experience. With its ergonomic handle design and retractable hose, you can easily maneuver it to clean hard-to-reach areas. You can also switch between three spray settings to get the intensity just right to help relieve tension so you can get back to playing with your grandchildren sooner.
This year's National Senior Health & Fitness Day theme is "Live and Thrive with Exercise." Take this theme to heart, and don't let aches and pains get in the way of maintaining your active lifestyle. Instead, seek the comfort of a Walk-In Bath. You'll be able to continue doing the activities you love with its therapeutic features that alleviate your discomfort and restore your energy.