Enhance Your Bathroom With These Accessories
Bathtime is your time. In those moments, your stress melts away and your aches disappear. 
But what's even better than a bath? All the ways you can build upon the daily ritual to make it even more relaxing. If you thought bathtime couldn't get any better, you'd be pleasantly surprised!
Read about each accessory below to discover why it made our list for creating the best bathroom space ever.
1. Clever Nightlights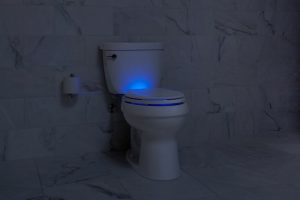 When nature calls in the middle of the night, you have to answer. Unfortunately, that means trying to navigate your way in the dark, which can be dangerous. If you're in the habit of making nightly bathroom trips, well-placed nightlights in hallways and bathrooms can provide the extra visibility you need to feel safe and comfortable. Install the KOHLER Nightlight toilet seat, which features two unique LED bulbs that illuminate your toilet in a soft glow so you can always find your way.
2. Slip-Resistant Rugs and Mats
Bathrooms can be slippery, making it a potentially hazardous area in your home. Add a slip-resistant mat in your tub or shower can help to prevent trips and falls. The additional traction gives you peace of mind so you can enjoy a worry-free bathing experience. Pick one with a bright color or fun pattern to accent your bathroom design.
3. Touchless Gadgets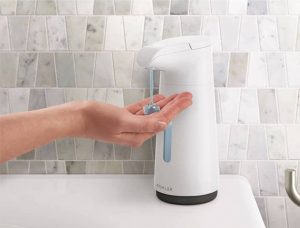 Everyone loves to go hands-free. Embrace your tech-savvy side with touchless bath accessories that can make your life easier and cleaner. You can minimize the spread of germs and the need to wipe down bath surfaces. With the KOHLER touchless foaming soap dispenser, simply hold your hand under the spout to dispense the perfect amount of soap and lather until the 20-second lighted timer goes off. You'll love that squeaky clean feeling.
4. Convenient Storage
Small and large bathrooms alike can benefit from functional storage solutions. Accessories like baskets, carts, ladder racks and caddies can help you add space and stay organized, instantly decluttering the area to create a polished look. The décor you add will enhance your design theme, and bathtime will become a more zen experience now that everything has its own place and is within easy reach. We suggest the KOHLER® Tresham® storage tower, which hides away your towels and toiletries in a compact footprint.
5. Luxurious Bath Towels
One of the best feelings in the world is when you step out of the bathtub and wrap yourself in a fluffy towel. When it's super plush and absorbent, you take your bathing ritual up ten notches. Envelop yourself in luxury when you use KOHLER Turkish bath linens. The bath linens line includes towels in a range of sizes along with a bathrobe and bath rug, which are all woven of the finest Turkish cotton for superior absorbency and deluxe quality. Choose from four classic shades to coordinate with your bathroom's color palette.
6. Decorative Bath Walls
Your bathroom isn't complete until it's designed to your personal taste. To truly relax and unwind in the space, you need a space that looks as good as it functions. Personalizing your space is vital to creating the right atmosphere, and that's where decorative bath walls can help. Consider adding style and color to your bathing experience with KOHLER LuxStone® bath walls. Made of engineered stone material, these walls are durable, low-maintenance and beautifully crafted—we promise you'll love the way your bathroom looks.
On Your Way to A Better Bathing Experience
Bathtime offers you an oasis away from the everyday stress. We designed the KOHLER® Walk-In Bath to give you a safe, comfortable and affordable way to bathe independently. Check out our special offers and promotions to enhance your bath experience!