Water Heater Buying Guide: Choose the Right One for Your Walk-In Tub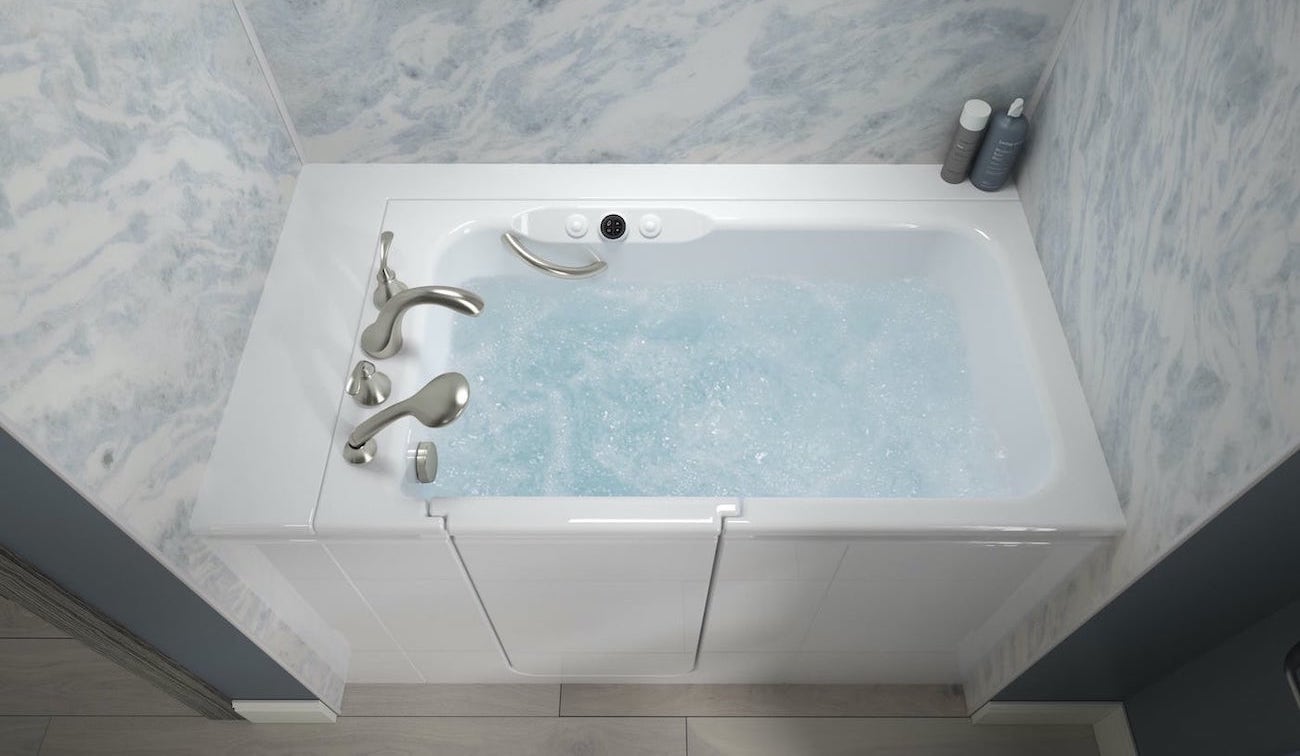 Water heaters are available in four different styles, and each one offers unique advantages for your home. To choose the right one, consider where you live and how many people are in your home. Read this post to learn about the most energy-efficient types of water heaters and the best type for your bathtub.
What Types of Water Heaters Are Available for Your Tub?
There are four main types of water heaters:
Traditional Water Heaters
A traditional water heater includes a storage tank, heater, and thermostat to ensure that the water reaches the preferred temperature. The storage tank expands the overall water capacity for the heater. Traditional water heaters are less expensive but do not last as long as tankless water heaters.
Price: $1,500
Lifespan: 8-12 years
Level of Maintenance: Due to tank, maintenance is normally more expensive
What Size Traditional Water Heater Do I Need for My Tub? 
Use the first-hour rating to calculate the size you need. The first-hour rating predicts how much hot water your heater can produce within one hour. For traditional water heaters, you can use the EnergyGuide label to find this information.
Tankless Water Heaters
Tankless water heaters operate without a storage tank and are significantly more energy-efficient. Although tankless water heaters are typically more expensive, they tend to last longer and are easier to fix. Tankless water heaters have beneficial trade-offs that make them a viable option for many homes:
Price: $3,000 (including installation)
Lifespan: 20+ years
Level of Maintenance: Regular maintenance, consult owner's manual for schedule
What Size Tankless Water Heater Do I Need for My Tub? 
To calculate the size you need to purchase for a tankless water heater, answer these questions:
How many devices will I use simultaneously? 
What are their flow rates? 
What are their combined flow rates?
What is the temperature rise? 
Am I using a gas or electric tankless water heater?
Solar Water Heaters
Solar water heaters work by transferring water from your roof's solar collector directly to your house. Since solar water heaters use renewable energy, they are sustainable and only use 20% of the fossil fuels that other types of water heaters use.
Price: $9,000 (without additional rebates or tax credits)
Lifespan: 20 years
Level of Maintenance: Regular maintenance every 3-5 years
What Size Solar Water Heater Do I Need for My Tub? 
There are three sizes of solar water heaters:
Small – 50-60 gallons – 1-3 people.
Medium – less than 80 gallons – 3-4 people. 
Large – more than 80 gallons – 5-6 people.
Heat Pump Water Heaters
Heat pump water heaters transfer heat to water through electricity. Since heat pump water systems convert the air in a room and use it to heat the water tank, they must live in rooms that are 40 degrees to 90 degrees Fahrenheit year-round.
Price: $1,400
Lifespan: 8-12 years
Level of Maintenance: Regular maintenance, check owner's manual to set a schedule
What Size Heat Pump Water Heater Do I Need for My Tub? 
For both heat pump and storage tank water heaters, use the first-hour rating to choose the right size for your home.
Are Water Heaters Energy-Efficient?
Water heaters can be energy efficient when you choose the right type. According to the Penn State College of Earth and Mineral Sciences, heat-pump water heaters are the most energy-efficient type. Tankless water heaters are also an energy-efficient option if your home uses less than 41 gallons of water per day.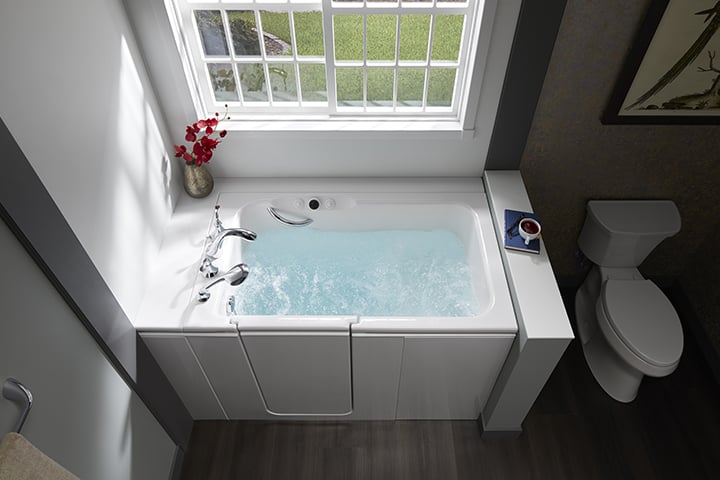 Which Water Heaters Are Best For Your Walk-In Tub?
We recommend either a heat-pump water heater or tankless water heater for your walk-in tub. Both options are more energy-efficient and seem to offer better advantages than other water heaters. During your walk-in bath quote appointment, your sales representative will examine your home's water heater to ensure that it's sufficient for a walk-in bath.
Ready to schedule your free in-home quote appointment? Visit our blog or contact us today.
Water Heater Comparison Chart
You may be considering multiple factors in your water heater search, not least among them the cost. Review our clear, side-by-side comparison of pricing, lifespan, maintenance schedule, and the primary advantages to each type to help you determine which water heater may be best for your home and routine.
Heater Type
Price
Lifespan
Maintenance Cadence
Primary Benefits
Traditional
$1,500
8-12 years
Annually
-Affordable to install and replace
-Easier to maintain and repair than other water heater types
Tankless
$3,000
20+ years
Annually
-Heats water on demand
-Saves on space and energy
Solar
$9,000
20 years
Every 5 years
-Lowers your carbon footprint
-Limited maintenance required
Heat Pump
$1,400
8-12 years
Every 6-12 months
-Highly energy-efficient
-Safe to use and environmentally-friendly