Chromotherapy Series: Yellow Bathroom Decor & Design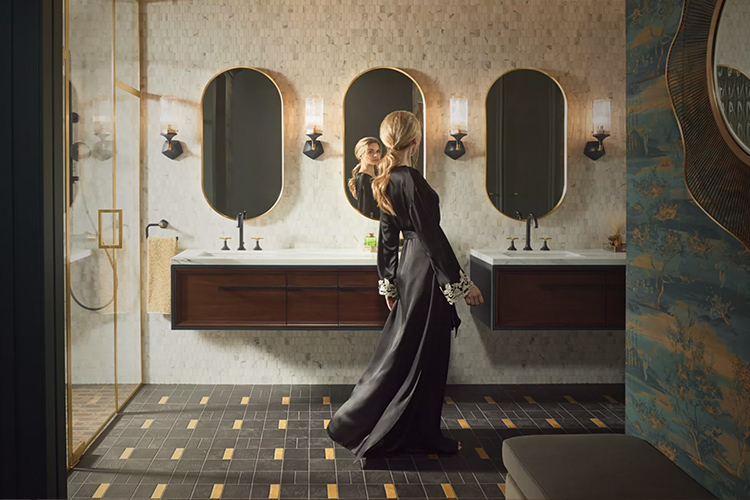 Chromotherapy Series: Yellow—The color of the sun. Uplifting and energizing to the senses. 
Yellow Decor & Design Tips
Cheerful yellow brings the sun's warmth into your bathroom, no matter the weather or time of day. It's a joyful color that, as the most visible color on the visual spectrum, naturally draws the eye. The warmth of yellow can be a balm for your senses in the winter or a great way to start your day. Let's explore some ways you can use this warm color in your bathroom. 
While you may think of yellow as a bright and sunny color, there are many shades to choose from that alter your bathroom's look and feel. A mustard yellow bathroom is an intense punch to the senses, while a lighter yellow is gentler on the eyes. 
Yellow plays well with other colors. While you can use yellow as a bright pop of color in accents throughout your bathroom, it can also pair well as a main focal point. You could pair it with green for a nature-inspired palette or with a multicolored wallpaper for contrast. 
Want to bring in yellow without being overwhelmed by it? Using yellow in floor tiles is a subtler nod to the color that allows you to use soothing neutrals everywhere else.
Yellow Walk-In Tub Lights for Chromotherapy
For chromotherapy or color therapy purposes, yellow is an energizing force. This makes it perfect for a burst of energy first thing in the morning. It's a fresh, high-energy color that wakes up the senses. Too much, though, can be overly stimulating. We recommend only using bright yellow tub lights for short periods. For a slightly longer soak, go for a lighter color. If you can change the color saturation for your color therapy lights, a light buttery yellow will do well. 
Gray & Yellow—Sunny Sleek
Gray and yellow combine to create a modern color palette that can make your bathroom a clean, modern retreat. This study of opposites, with one bright pop of color and one neutral, can look especially stark against a white or black accent trim. This is a surprisingly versatile color combination, lending itself to more modern styles.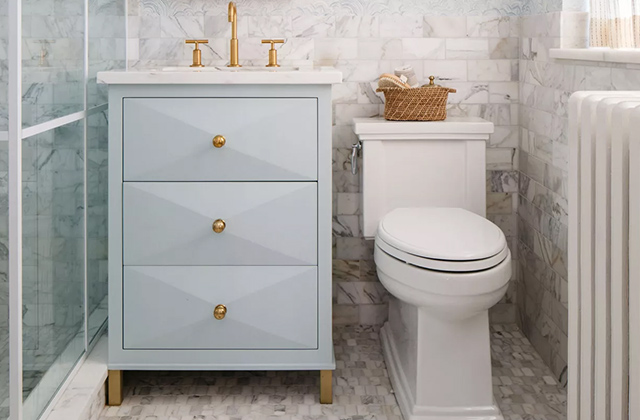 Blue & Yellow—Colorful Classics
This combination is common enough that you'll likely find plenty of decorations for your bathroom. Blue ginger jars look beautiful with yellow walls and other accents. One important thing to keep in mind: You don't want blue and yellow competing for domination of the other color. Use one bright and one dark shade or both lighter or darker to keep your palette harmonious. Two bright colors would be a lot of visual information for your eyes to process, making it too stimulating for the relaxing air you'll likely want in your bathroom.
Black & Yellow—Modern Glam
Black and yellow lend themselves to big and bold looks, especially when you pull in even more yellows with gold metallic accents. If you're using a color palette as strong as this one, go big or go home. Use colorful patterns in tiles or accents like towels or bathroom rugs. Want a fun nod to nature? Black and yellow are the colors of a bee, so bring in honeycomb patterns! Alternatively, keep your bathroom down-to-earth with a light yellow or white paint or tile color, or bring in a dark gray to really play up the contrasts. 
White & Yellow—Morning Glory
This combination is versatile enough that you can play it in several ways, depending on how high or low contrast you want your white and yellow to be. White paired with a light yellow is perfect for an early-morning soak in the tub. If you want more color contrast, a marigold paired with white is a bright way to wake yourself up without going overboard on brightness. 
View this post on Instagram
Let's Look on the Brighter Side
Embrace your sunny outlook without compromising safety or design with a walk-in tub. The  KOHLER® Walk-In Bath brings a spa-like atmosphere to your bathroom that will make bathtime your favorite part of the day. 
Want to learn more about light therapy and how different colors can affect your mood? Keep reading our Chromotherapy series or read our overview on the subject.