Chromotherapy Series: Green & White Bathroom Decor & Design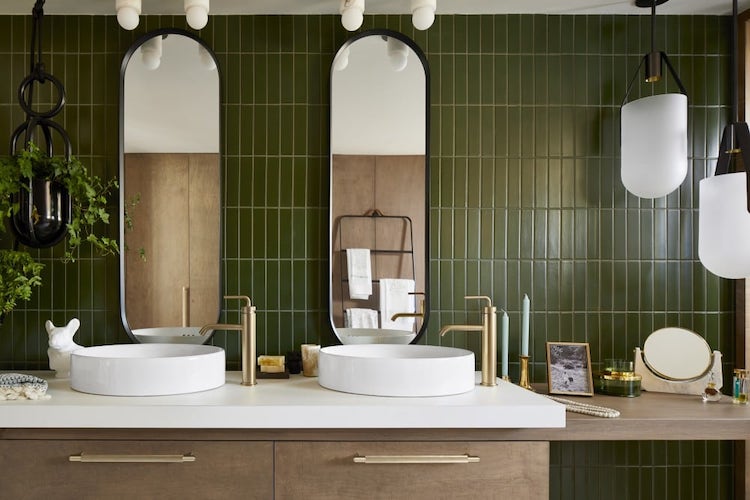 Chromotherapy Series: Green – The color of nature. Brings soothing stress relief. 
Green & White Design Tips
There's a reason many spas use green as an accent color in their decor. It's a harmonious color that can help bring balance and peace at a glance. You'll most often see green and white used in contemporary or modern spaces, but they can also be combined with a more traditional style easily enough, depending on your choice of decor. Here are some ideas for using this versatile, lush color.
Thanks to our ancestors, we're likely hard-wired to associate green with nature and vitality. You can use this to your advantage in your bathroom design. Lean into vinelike patterns on tile or towels and use natural materials like jute to bring a touch of the outdoors in. 
Want a bolder, more energizing look? Bring in kelly green on your walls or towels. Brighter greens pack a punch (and are associated with optimism), so plan your design carefully with plenty of other calming white elements. 
Take the next step into the outdoors and bring in a plant or two. Easy-care plants that do well with excess moisture, such as snake plants or ferns, are good choices.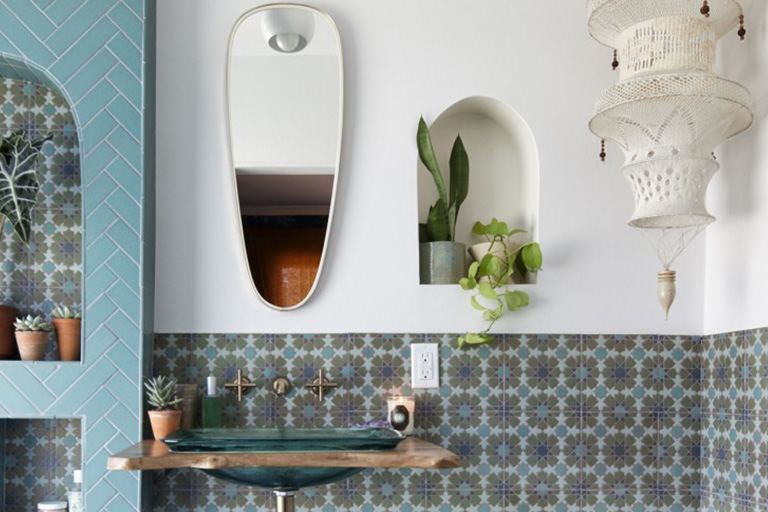 Green Walk-In Tub Lights for Chromotherapy
When used for chromotherapy, green is most commonly linked with stress relief. Like other cool colors, it's soothing and not too visually stimulating. Using green tub lights at the end of a long, busy day could help you sleep better as well. Bringing down your stress levels is key to enjoying a good night's sleep! 
Don't have tub lights? User-controlled LED color lights or simple string lights will do in a pinch. Just plug them in, have a good soak in your tub and step out refreshed. 
Below are some popular combinations of green and white often seen in interiors. Gather inspiration for your own bathroom!
Sage Green & White–Modern Neutrals
Using muted, unobtrusive colors as neutrals to add another layer of interest to a fairly limited palette is a more modern notion, but one that's rightfully received its due in recent years. Much like the herb it's named for, sage green is a natural, warm green associated with wisdom. This color combination is a good choice if you want to create a modern, spa-like atmosphere in your bathroom.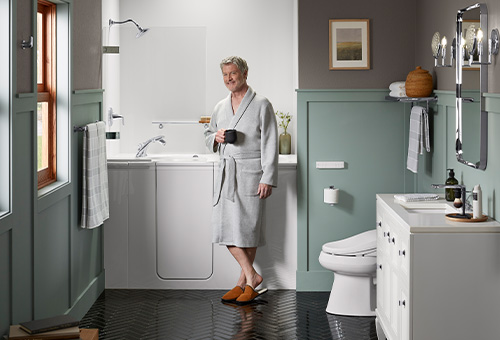 Dark Green & White–Earthy & Warm
Though lighter greens tend to take the spotlight, dark greens can be just as soothing. However, they're a more mature, earthy take. Combined with white, this can be a standout color combination that lends dignity to your bathroom. Hunter green is an excellent option for an in-law suite or if you're looking for a warm retreat to escape to at the end of the day.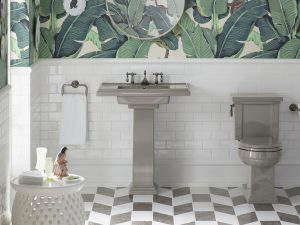 Mint Green & White–Soft Elegance
This combination lends itself very well to traditional style. It's versatile and capable of spanning just about any style choice, but with traditional touches, you'll be able to fully play into the elegance of mint and white. This look is perfect for a graceful bathroom with softer touches. If you're the sort of person who craves an old-fashioned vanity setup in your bathroom, this is your go-to green and white color palette. 
Emerald Green & White–Powerfully Bold 
Green is more complex than you may think. While it's certainly known for being relaxing, it's also one of the more motivating colors on the visual spectrum. Bring out the go-getter in yourself with this combination. For even more contrast, add some black details to your decor. White, black and a bold green bounce well off each other.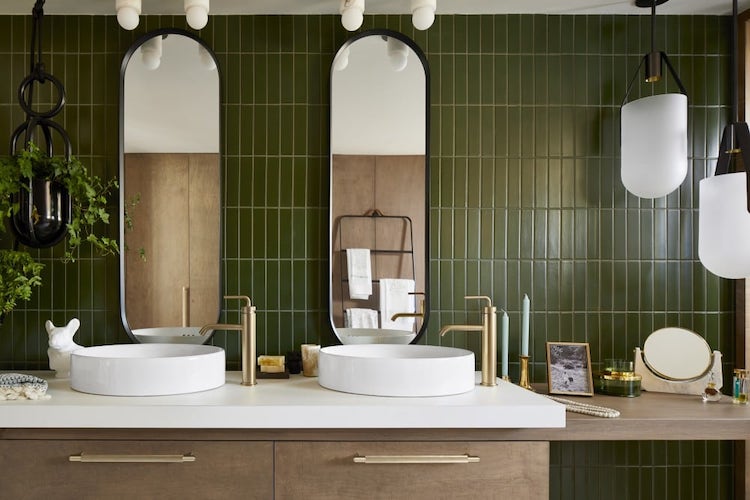 Let Us Help You Go Green
Our walk-in tubs bring plenty of panache to your bathroom, letting you style your space in exactly the color palette that best suits you. To learn more about light therapy and how color can impact your mood, take a look at the rest of our Chromotherapy series.