Blue & White Bathroom Decor & Design Tips
Chromotherapy Series: Blue—Promotes relaxation. Calms the body while indulging the senses.
You'd be hard-pressed to find a more classic combination of colors than blue and white. These colors complement virtually any style, making them popular color options for traditional, coastal or modern homes alike. Including blue in your bathroom color palette brings soothing energy that can have restorative effects at the end of a long day or provide a calming start. Here are some ways to bring your blue and white bathroom ideas to life.
Blue is versatile. There are so many shades in the blue color family to pick and play with for your bathroom, from exotic turquoise to classic royal blue. Mixing and matching complementary shades or even using blue stone in your bathtub brings complexity to your palette. 
Don't be afraid to play up metallic influences. Gold or silver as accent colors can draw the eye, providing focal points in your otherwise calm room. A mirror with bold metallic touches or an eye-catching sconce can be great pairing options with most shades of blue and white. 
Want to use blue as a pop of color? Painting your walls is always a great option to bring blue to the forefront, but using bright blue towels or as tiling in your tub are other ways to flaunt this color. 
Blue Walk-In Tub Lights – Chromotherapy
From a chromotherapy standpoint, blue is linked to relaxation and pain relief. Blue is one of the more soothing colors on our visual spectrum. It's easy on the eyes and aids in de-stressing, which pairs well with a hot bath after a long day. Along with our walk-in tub's soothing atmosphere, you can bring in colored string lights or a remote-controlled LED bulb in your overhead light to add relaxing lighting to your bathtime. 
Let's examine some of the more popular versions of blue and white out there and how they could influence your mood.
Navy Blue & White: Sophistication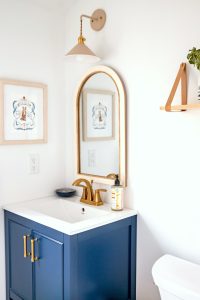 Deep, moody navy blue and bright white are parallels that play well with each other. The sophistication and maturity of this color palette make it suitable for an in-law suite or an upgraded empty-nesters' bathroom, but that's not to say it's not versatile! 
A navy blue paint color and bright white bath wall contrast beautifully, bringing the eye to your tub and making it a central point in your bathroom. 
Powder Blue & White: Soft Tones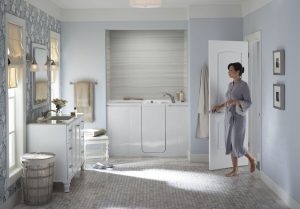 Powder blue and white are a gentle pairing. The closeness of these two colors as a palette makes them well-suited for a relaxing bathroom suite with little worry of eye strain. These colors can be lovely in a coastal-inspired room or work as part of a more modern look with sleek chrome fixtures. There's a reason you see these paired so often in nurseries: this is a particularly calming shade of blue. If you want your bathroom to be a restful retreat, this could be your answer. 
Midnight Blue & White: Power
A rich midnight blue is indulgent. Combined with white, it imbues your bathroom with an air that leaves you walking with a little extra swagger. Make use of vanity lights or lighted mirrors to turn the drama up a few extra notches so you can start and end every day feeling ready to take on the world.
Bring Blue to the Forefront with Us
Learn more about chromotherapy in our Chromotherapy Series to see how different colors can affect your wellness and mood. If you're committed to making your blue bathroom a reality, take your inspiration to the next level. Request your free quote for a Walk-In Bath today!