Air Tubs vs. Whirlpool Baths: Let's Compare
It's time to shop for a new bathtub, but where should you start? Although there are many different types of jetted tubs on the market, let's compare the most popular two: air tubs and whirlpool baths.
Both bathtubs provide jet massages, but the key difference is how the jets operate. Simply put, an air tub releases jets of air while a whirlpool shoots jets of water.
Below we elaborate on how each jet works and the benefits they provide. Keep reading to discover which bathtub is right for you.
What is an Air Tub?
As the name suggests, an air bath uses jets of air to deliver a full-body massage experience. Warm air is pushed through a staggered airjet design, creating thousands of tiny, invigorating bubbles that surround your body to give you a sensation of weightlessness.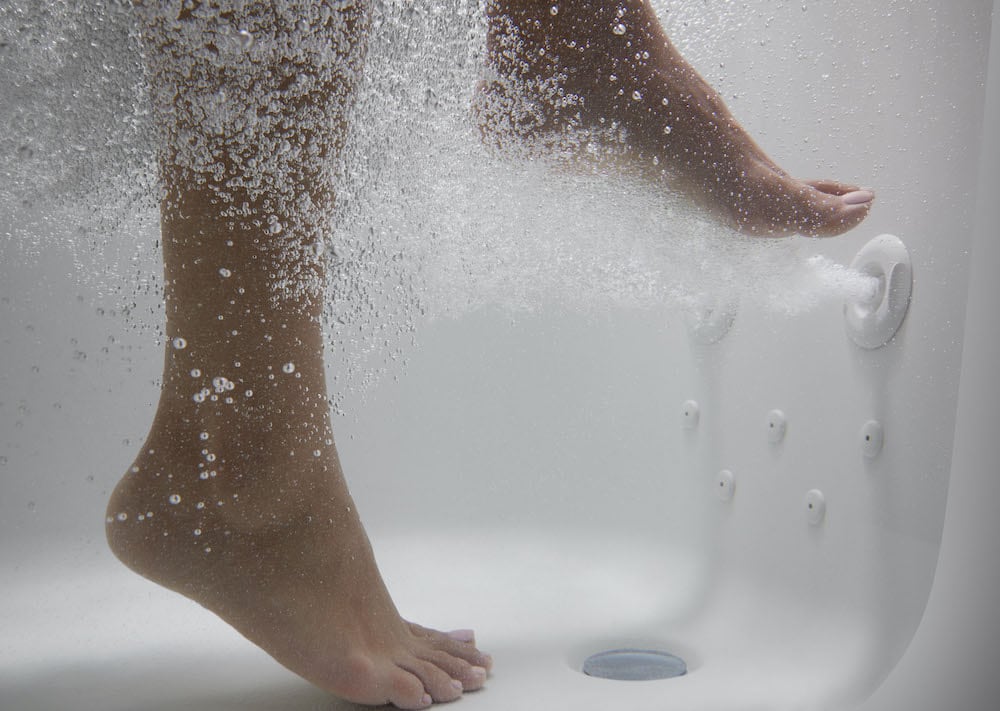 The random motion of bubbles traveling along your body to the surface helps center your mind and stimulate the release of muscle tension. For a truly customized bathing experience, tailor the intensity of the airflow, from a soothing caress to a vigorous massage.
Treat yourself to a relaxing bath in an air tub after a long day to feel refreshed and reinvigorated.
What is a Whirlpool Tub?
Unlike an air tub, a whirlpool bath shoots jets of water to provide a targeted, powerful hydro-massage. Hydrotherapy has been used for centuries to relieve and treat pain, as well as offer therapeutic relaxation to create a spa-like experience.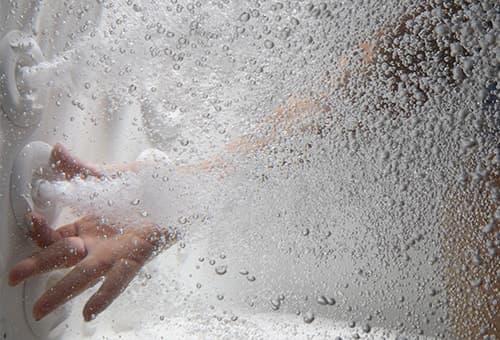 In fact, similar to a deep tissue massage, hydrotherapy can also help potentially increase blood flow and treat a variety of ailments. In some baths, you can adjust for directional positioning and massage intensity to target individual stress points along the body. This helps bathers release tension and soothe muscle soreness.
Using hydrotherapy to support healing and wellness, whirlpool baths offer a convenient solution for unwinding and relaxing at home.
At-A-Glance Comparison Chart: Air Bath vs Whirlpool Bath
Use this handy chart below to quickly compare the differences between air and whirlpool tubs.
Air Tub
Whirlpool Tub
Operation

Uses jets of air
Creates thousands of tiny, invigorating bubbles

Shoots jets of water
Delivers powerful, directed massage

Massaging Sensation

Gentle effervescence
Gives a sensation of weightlessness

Deep tissue
Targeted hydrotherapy

Customization

Adjust for directional positioning
Choose massage intensity
Walk-In Bath: The Perfect Combination Tub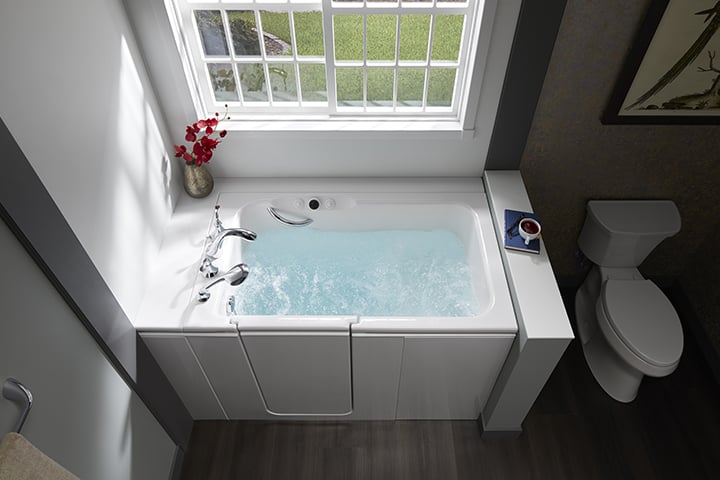 If you're still having trouble deciding whether an air tub or whirlpool bath is best for you, consider a combination tub such as the KOHLER® Walk-In Bath. It offers much more than a basic soak, featuring two hydrotherapy components—hydrotherapy whirlpool jets and BubbleMassage™ air jets—that function to provide relief and relaxation either individually or combined.
Hydrotherapy Whirlpool Jets
Delivering a powerful, targeted massage, KOHLER whirlpool hydrotherapy jets are ideal for unwinding, relaxing and revitalizing. The 10 strategically placed jets adjust for precise positioning and massage intensity to help alleviate tension and soreness in your back, legs and feet.
BubbleMassage Hydrotherapy
This BubbleMassage air bath technology patented by Kohler uses a pump to blow air through airjets strategically positioned 360 degrees around the interior of the bath. This creates thousands of champagne-like bubbles that wrap your body in an energizing embrace. Plus it features a range of intensity settings to deliver a rejuvenating massage with just the right amount of pressure.
Watch our hydrotherapy video below to see these two types of jets in action.
Enjoy A Relaxing Soak Today
The KOHLER Walk-In Bath offers you the best of both worlds, combining the water jets of a whirlpool with the heated air bubbles of an air tub that can be turned on together or independently for a spa-like home bathing experience. Schedule your in-home or virtual quote appointment today.
Experience a luxurious home bathing experience today.
Contact Us