This Walk-In Tub Feature Is More Important Than You Think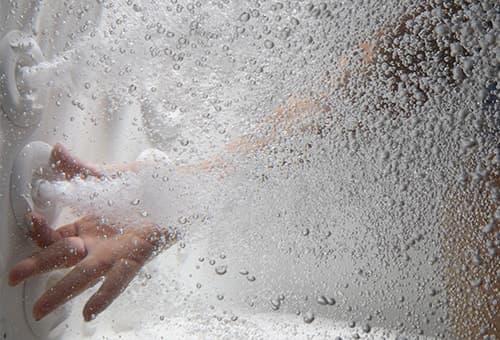 With so many walk-in tub options available from so many brands, finding the key differences and selecting the one that best meets your needs can make your head spin. There are seemingly dozens of features to consider—but which ones actually matter?
When you buy a walk-in tub with hydrotherapy features built-in, you experience both safer bathing and therapeutic benefits every time you take a bath.
What is hydrotherapy?
Hydrotherapy is the use of water to alleviate medical conditions and pain. Examples include saunas, steam rooms, pools and foot baths. It has been utilized for centuries to treat and relieve pain and provide a relaxing environment that promotes spiritual and physical wellness.
Now, you can access this special kind of therapy in the privacy and leisure of your own home, as often as you want, in specialty walk-in tubs.
Which hydrotherapy features should I consider?
Number of Jets
Not all hydrotherapy tubs are created equal. Many brands will boast a large number of whirlpool jets, but what many don't realize is that jet quality, rather than quantity, is what matters. A tub that has dozens of jets may sound like a better choice, when actually it decreases the power and quality of the individual jets, resulting in a lackluster whirlpool experience.
Location of Jets
It seems obvious, but many don't realize that if the hydrotherapy jets don't target the right spots on your body, you won't get much pain relief. Adjustable whirlpool jets that target areas such as the spine, legs and feet deliver targeted massage to the muscles you use most day in and day out. Who wouldn't want a soothing foot massage every night?
Type of Jets
Just like some people prefer a firm touch during a massage and others prefer a light touch, your jets should offer some pressure variety, too. Consider a walk-in tub that offers more than one type of jet for a more dynamic and relaxing soak. For example, a combination of powerful whirlpool jets and smaller jets that emit thousands of tiny, fizzy bubbles creates a spa-like experience that soothes and invigorates.
Spray Experiences
With a multifunction handshower, you can pamper your scalp and shoulders using your favorite pressure spray setting. A handshower also adds the feel and experience of a shower in a safe, comfortable bathtub.
About Kohler: the leader in hydrotherapy
Since inventing the bathtub in 1883, Kohler Co. has led the industry in bath and shower technology, with advancements in design and engineering that provide a safer, more comfortable living experience in one of the most important areas of the home. As one of the oldest family-owned companies in America, Kohler is the name homeowners know and trust for quality bath and shower products.