How to Clean Your Walk-In Tub With Ease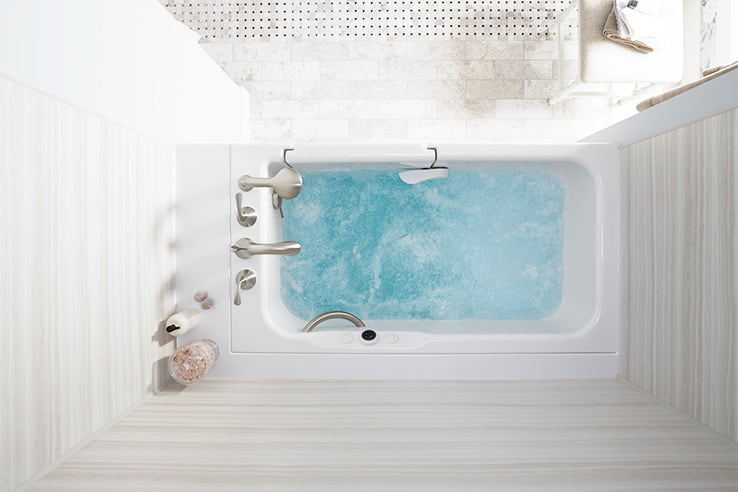 Keeping your KOHLER® Walk-In Bath sparkling is remarkably simple—no professional cleaner needed! You just need to quickly wipe it down after each use to prevent the build-up of mold and soap deposits. The process is as easy and stress-free as cleaning a traditional bathtub so you can put your energy toward soaking instead of scrubbing.
Learn below which cleaning supplies work best to keep your tub looking spotless and how to care for your walk-in bath with ease.
What You'll Need To Gather
Throw away your stockpile of harsh cleaning chemicals you've saved to scrub your old traditional bathtub or shower. These products will harm your KOHLER Walk-In Bath.
Instead, you can make your walk-in bath shine using only a few basic, everyday cleaning supplies.
Here are the 3 essential cleaning supplies you'll need:
• Nonabrasive, all-purpose spray or bathroom cleaner
• Glass cleaning fluid, such as Windex
• Soft cloth or squeegee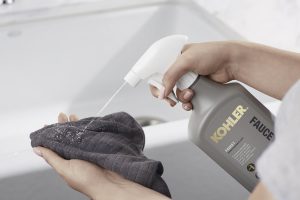 Bath Cleaning Tools
Trade in bristle brushes, abrasive sponges or scouring pads for gentle tools like a soft cloth or squeegee! Scrubbing your tub with these rough devices can scratch it over time.
Instead, grab a squeegee to wipe down every surface until it shines, and then use a cloth to dry everything off. Your walk-in bath deserves exceptional care, starting with the tools and products used.
Bath Cleaning Products
Toss out your cleaners containing abrasives, ammonia, bleach, acids, waxes, alcohol or solvents! When applied to metal, these harsh chemicals can harm the finish.
A smarter option is using a mild detergent or cleaner, which can be diluted with water for a gentler solution. Short on time? Skip the cleaning products.
What To Do During Daily Cleanings
Spare a few seconds to wipe down your walk-in bath after every soak. Such simple maintenance goes a long way toward keeping your tub in excellent condition for years to come. Below is a list of all the areas you should maintain daily. And for more cleaning tips, check out our detailed instructions on how to care for your tub.
Daily Cleaning To-Do List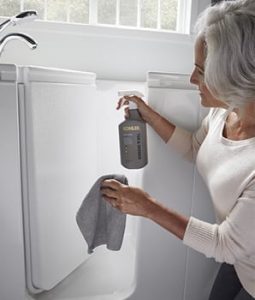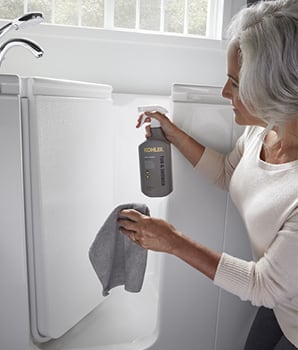 Bath Surfaces
The easy entry, accessible handrails and comfortable seat were designed for stress-free cleaning. With a few swipes of a damp cloth, the interior of your bath will shine once again.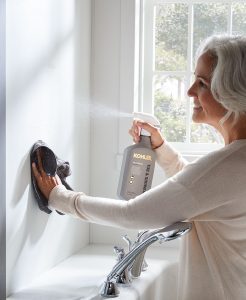 LuxStone® Bath Walls
Engineered without tile or grout, these decorative bath walls prevent mold growth so your days of scrubbing are over. A cloth and mild cleaner are all that's required, offering you a hassle-free cleaning routine. Check out our LuxStone shower blog to learn how to deep clean your LuxStone bath walls.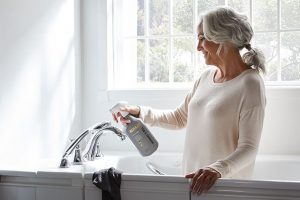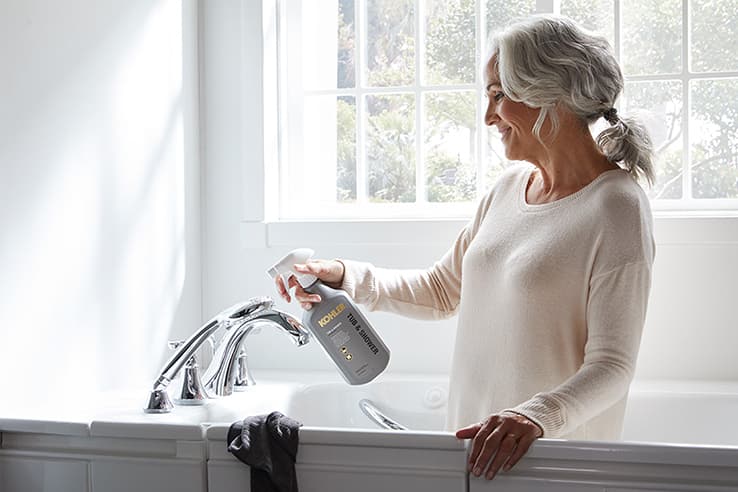 Faucets
Your walk-in bath's faucet, multifunction handshower and grab bars clean just as easily as other bath surfaces. To protect the finish, use gentle glass cleaner like Windex to polish the faucets until they gleam.
Just a few steps and you're done! The KOHLER Walk-In Bath simplifies your cleaning routine so it's stress-free and quick than ever. Spend less time caring for your tub and more time caring for yourself with a spa-like soak.