What to Ask During Your Walk-In Bathtub Consultation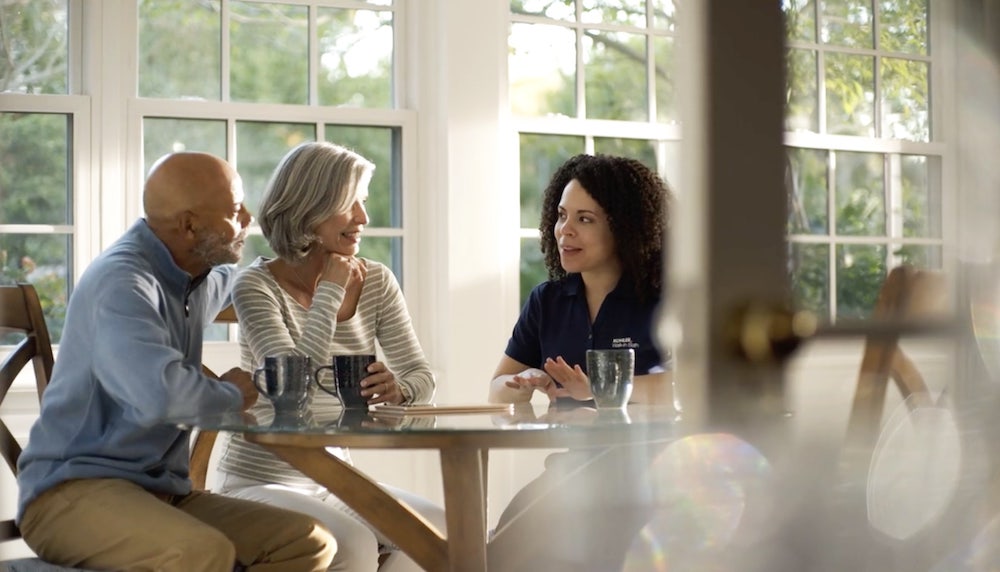 Purchasing a walk-in bath is an important investment into your future. Designed to allow easier access into and out of the tub, it helps you bathe independently in your own home.
However, not all walk-in baths offer the same safety and comfort features. That's why it's important to talk with your salesperson about if a walk‑in bath is right for you.
We've compiled a list of questions and considerations to keep in mind as you shop. This guide provides talking points for you to discuss with a walk-in bath specialist during your quote appointment so you feel confident in your purchase.
Safety
How Low Is the Threshold? Is It Low Enough for My Needs?
The threshold (or step-in) is a staple feature of a walk-in bath because it enables you to safely enter and exit. The height of the entry varies by brand. Typically, the walk-in bath with the lowest threshold is the safest option.
How Wide Is the Door?
The design and engineering of the walk-in bath door greatly impact the usability of the bath. A wide door makes it more accessible to step through. Ask about the dimensions of the door to ensure you can safely walk in and sit inside.
How Many Safety Handrails Are There?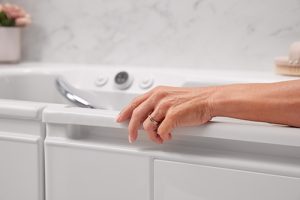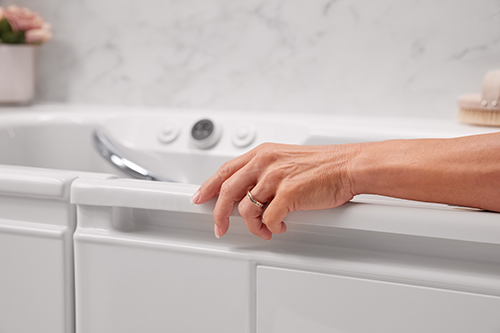 Handrails or grab bars provide stability as you enter and exit the walk-in bath. They also help you sit, stand and bathe securely. The number of handrails varies by brand, with some even designing the rim to double as a handrail. Discuss the position of each handrail with your walk-in bathtub salesperson so you can enjoy safer bathing.
Can I Reach the Controls Easily?
You should be able to comfortably reach the controls while sitting in the bath. Otherwise, you may have trouble operating the bath's features. Consider a walk-in bath equipped with an ergonomic control panel, which is designed for simplicity and ease.
Comfort
What Are the Walk-in Bath's Therapeutic Features?
Not all walk-in baths are created equal. Their features range from basic to advanced so it's important to talk to your walk-in bath specialist about your needs. Inquire about a heated backrest (which keep you warm as the bath fills), whirlpool jets and other bath features that relieve tension and soothe sore muscles.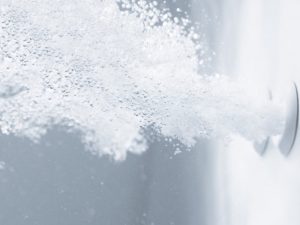 How Many Jets Are in the Bath?
Contrary to popular belief, the number of jets isn't the most important factor. It's actually the placement, positioning and quality of the jets that matter most. Too many jets can reduce the power of each individual jet, weakening the massage experience.
Pro Tip: Kohler has identified that 10 jets create the optimal therapeutic pressure.
Where Are the Jets Positioned?
The positioning of the jets makes a big impact. You'll enjoy a more powerful massage if the jets hit just the right stress points along your body. Make sure the jets are adjustable so they can precisely target your spine, legs and feet for a reinvigorating experience.  
Customization
Can I Customize the Look of My Bath?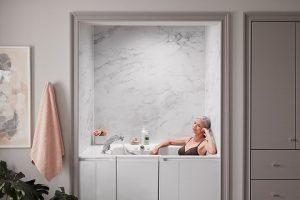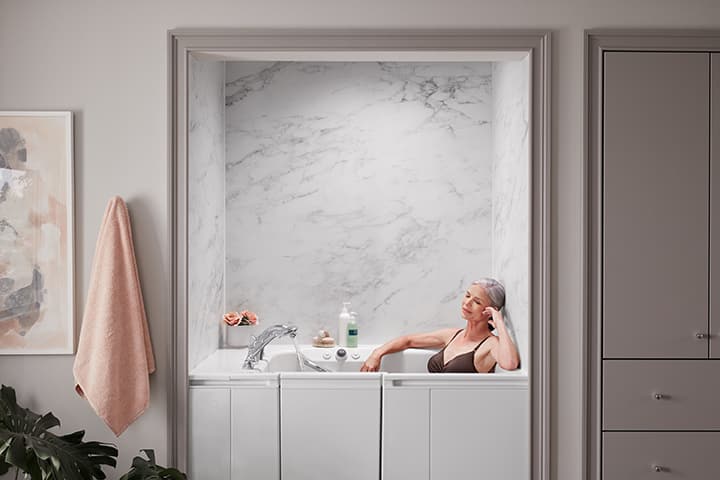 Personal touches help to make your new walk-in bath all your own. Ask about decorative options for your walk-in bath. When you choose a brand with a wide selection of decorative bath walls, bath colors and faucet finish options, you can design your bath's look exactly the way you envisioned. Your bath specialist can help you choose accessories that reflect your home decor and personal style.
What If I Also Want a Shower Experience?
See if the bath comes with a handshower in addition to a regular faucet. A handshower gives you flexibility over your bathing experience so you can enjoy the best of both worlds. For even greater control, seek handshowers with multiple spray settings so you can find your perfect pressure. Talk with your bath specialist about what options are available to you.
Purchase Details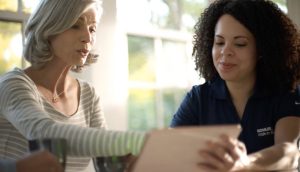 Does the Bath Come with a Warranty? What Does It Cover?
Your warranty should give you peace of mind that you'll be able to enjoy your bath worry-free as long as you own it. Ask about warranty options, and make sure you choose a brand that offers lifetime protection.
Do You Offer Financing Options?
Affordable financing plans enable you to purchase a walk-in bath when you need it, and starts with a small down payment. Ask about eligibility and finding a plan that works with your budget. Also, look out for special offers or deals that can help offset some of the cost.
How Quickly Can You Install My Walk-in Bath?
The answer partly depends on the quote appointment. The best brands conduct thorough testing during your in-home consultation to identify and prevent issues that cause delays in installation. In fact, KOHLER can install a walk-in bath in as little as one day.
Talk To A Kohler Specialist
At KOHLER, our walk-in bath specialists are eager to provide answers and discuss your options so you can make an informed and confident decision when purchasing your new walk-in bath. To schedule your free in-home consultation, call (800) 707-5276 or request a quote.
Use this shopping guide to find the right walk-in bath for your needs.
Download PDF >>