Yoga for Seniors: How to Start Your Practice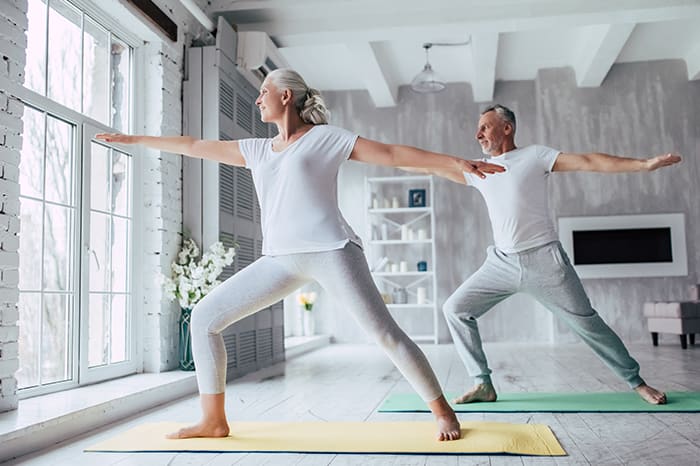 Yoga has been around for thousands of years, but it has skyrocketed in popularity in the Western world over the past few decades. And it's not just popular among young people! Yoga is a wonderful way to add activity to your day, no matter your age.
Though it may seem intimidating, yoga is actually extremely adaptable for everyone. No matter your limitations or activity level, you can likely get started with a yoga practice.
Before starting a yoga practice or other exercise program, please check with your doctor to ensure it is safe for you.
Benefits of Yoga for Seniors
As we age, it's important to remain active and yoga is a great way to add more movement into your life. Some of the physical and mental benefits include:
To see these benefits, you'll need to practice yoga regularly. Start with 1-2 times a week and increase as you gain endurance and strength.
Some of these benefits, such as better sleep, lower stress levels, and increased flexibility may see an extra boost when you combine a yoga session with a warm bath and hydrotherapy. A warm bath (with or without hydrotherapy) relaxes tight muscles and allows you to get the most muscle-stretching benefits in a post-soak yoga session.
If you're an active senior, a regular yoga practice can help improve your performance on the tennis court, golf course, track, or wherever you get moving. Building strength, increasing flexibility, and improving your balance all make playing sports or exercising easier on your body, allowing you to enjoy your favorite sport for longer!
How to Get Started With Yoga for Healthy Aging
One of the best things about yoga is that you don't have to visit a gym or yoga studio to start a practice. If you're unable to go to a yoga class, you can start right at home with minimal equipment. Here's what we recommend:
A yoga mat
A set of blocks (optional)
A strap (optional—you can also use a towel, scarf, or belt)
A chair (optional—but if you choose to use one, we recommend a chair without arms, like dining room chair or something similar)
Comfy, non-constricting clothes
If you don't want to invest in equipment just yet, you can start with just a mat and comfy clothes. The blocks, strap, and chair are all helpful, but not completely necessary. As you grow your practice, you'll learn which props you need and which ones you don't.
A few things to remember before you begin:
Check with your healthcare provider before you start any new fitness regimen
If you are already active, you may want to start with longer sessions
If you are working on becoming more active or have limited mobility, we recommend beginning with shorter sessions
Regardless of your fitness level, take breaks whenever you need to
Follow modifications given in videos if you feel it would better serve you
Listen to your body. Don't push yourself too hard and stop if you feel any pinching or sharp pains
Yoga Routines for Seniors
If you're not sure where to start, here are some free yoga videos made just for seniors and those with limited mobility.

This 17-minute practice is a wonderful choice for beginners.

This video may be slow & gentle, but you'll still get a great stretch in this 28-minute flow.

This 45-minute video is great for anyone with mobility limitations.

This 45-minute video can help ease back pain with gentle stretches and movement to loosen the muscles.
Add Yoga to Your Wellness Routine
Whether you're already active or wanting to add gentle movement into your day, yoga can be adapted to your unique needs. Just remember to go at your own pace and enjoy learning something new!