The Kohler Guide to Deep-Cleaning Your Bathroom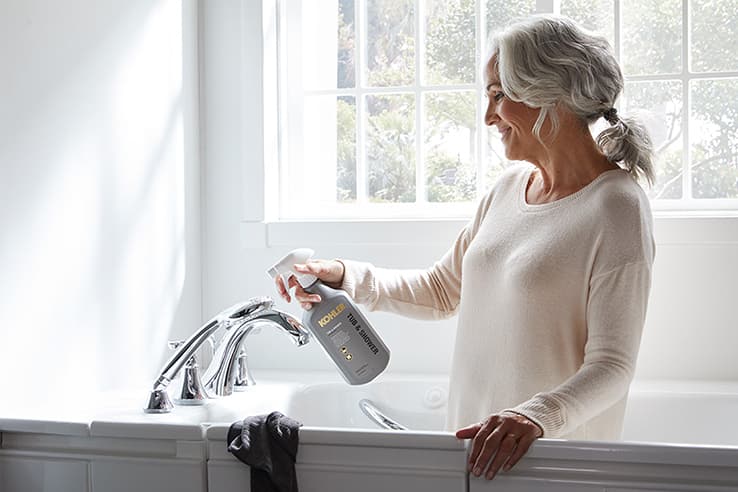 Whether you're in a deep cleaning mood or you just want something to do on a rainy day, why not give your bathroom a thorough scrub? Your bathroom is one of the most used rooms in your home, so deep cleaning it periodically is a must.
If you don't know where to start, just follow our guide to deep cleaning your bathroom. Here is everything you need to get a sparkling bathroom, and guidelines for cleaning every surface.
What You Need to Clean Your Bathroom
First, gather your cleaning supplies:
Tub & tile cleaner
KOHLER cleaners for your KOHLER surfaces
All-purpose cleaner and glass cleaner
Bleach
White vinegar
Baking soda (optional)
A sponge
An old toothbrush or small stiff-bristle brush
A few microfiber cloths
Paper towels or disinfectant wipes
Rubber gloves (optional)
Bathroom Cleaning Checklist
Before you start, check your cleaning products to make sure they are safe for your surfaces. You should also open a window or turn on the fan in your bathroom for proper ventilation.
Let's get started!
1. Shower Walls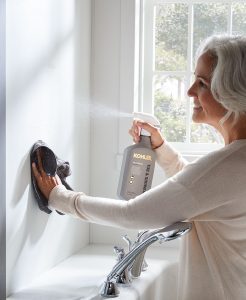 Your shower walls are a great place to start deep cleaning your bathroom! To clean your shower walls, use a cleaner made specifically for the material of your shower (fiberglass, tile, etc.) and a sponge or microfiber cloth. If you have a KOHLER shower, KOHLER Tub & Shower Cleaner is the safest cleaner for your shower, although you can use it on a variety of surfaces. 
Just spray the cleaner on, scrub away soap scum with a sponge, rinse with clean water, and your shower walls are nice and clean!
2. Bathtub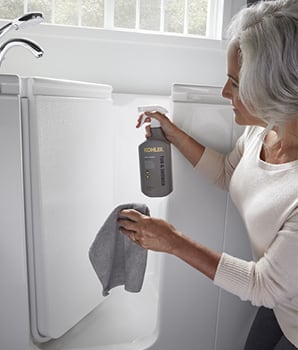 You should give your tub a scrub once a week or so. If you haven't quite gotten to it that often, no worries! Start by spraying your tub with your tub & tile cleaner (you can use your KOHLER cleaner for this, too) and letting it sit for a few minutes. Wipe it down with a sponge, scrubbing tough spots as needed. Rinse with clean water and repeat (if needed) to get your tub sparkling clean.
To clean your faucet, showerhead, and other fixtures, use your tub cleaner or a cleaner specifically made for faucets, like KOHLER faucet cleaner, and your microfiber cloth. Rinse with clean water and buff with a clean, dry microfiber cloth for extra shine!
3. Caulking
Dirty or moldy bathroom caulking can make even the cleanest tub look less than appealing. Luckily, it's relatively easy to clean! Simply spray the caulk with a diluted bleach solution (½ cup bleach to 1 gallon of water), let it sit for 15-20 minutes, and scrub with a sponge. Rinse with clean water and repeat as needed.
4. Grout
If your grout looks a little dingy, cleaning it is simple. Mix equal parts vinegar and warm water in a spray bottle and spray it onto your grout. Let it sit for 5 minutes, and scrub with an old toothbrush or small stiff-bristled brush. You can also sprinkle a little baking soda over the vinegar mixture before scrubbing. Wipe with a wet cloth and repeat as needed to get your grout back to its former glory.
5. Toilet
It's everyone's least favorite chore, but it has to be done. Start by pouring approximately ½ cup of bleach into your toilet bowl and letting it sit for 10 minutes. In the meantime, use a few paper towels and all-purpose cleaner or disinfectant wipes to clean the seat, tank, and base.
After approximately 10 minutes, scrub the toilet bowl with your toilet brush and flush. To clean your brush, hold it over the bowl and carefully pour bleach onto the bristles. Rinse with a pitcher of clean water and clean the brush canister with warm soapy water.
6. Sink, Countertop, and Mirror
Your sink and countertop arguably get the most use out of anything in your bathroom. To clean them, wipe down your countertop with an all-purpose cleaner and microfiber cloth. Spray your tub cleaner in your sink basin, wipe it with a sponge or microfiber cloth, and rinse the basin with water. Don't forget to use a drain treatment to get rid of any clogs.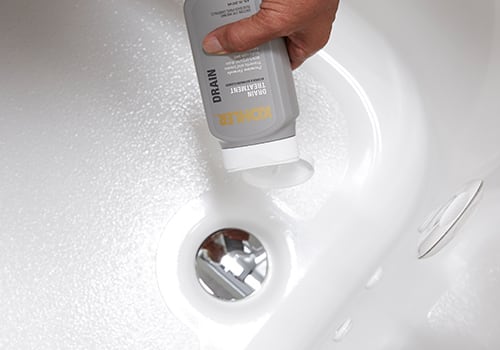 To clean your faucet, use a faucet cleaner, your tub cleaner, or a cleaner made specifically for your faucet material (steel, copper, etc.) and a microfiber cloth. Rinse with clean water and buff it with a clean, dry cloth for a sparkling faucet. Use a glass cleaner like Windex to wipe your mirror, and your sink area is done!
7. Wash Your Linens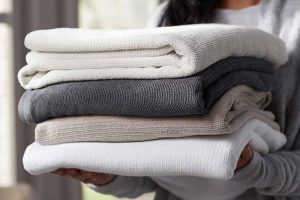 Take the time to wash your hand towels, bathmats, washcloths, shower curtain, and curtain liner. Don't forget any decorative hand towels! 
If you have a plastic shower curtain liner, you can toss it in the washer with your shower curtain, or in a load by itself with some bleach to disinfect it. Just remember to hang it up to dry!
8. Mop
Last but not least, you'll want to sweep and mop your bathroom. If you have tile floors, you can follow our grout-cleaning instructions above to get your floor extra clean.
Cleaning your bathroom requires a lot of elbow grease, but the results are worth it! Now you can enjoy your clean bathroom with a nice, relaxing soak in your clean bathtub.
Ready for a bathroom refresh? Reinvigorate your bath routine with a Walk-In Bath.
Contact Us