Contrast Baths: What You Should Know About Hot-Cold Water Therapy
Hydrotherapy is a gentle, effective tool for people dealing with chronic pain or recovering from an injury. Contrast baths are a passive form of hydrotherapy, involving little movement and letting the water do the work for you. This makes it an appealing option for those with a limited range of movement. Let's jump in and learn more about this invigorating therapeutic technique. 
What is a Contrast Bath?
Contrast baths are a physical therapy treatment wherein you soak your whole body or the affected area repeatedly in first hot and then cold water for specified amounts of time. Typically, contrast baths employ one to four minutes of hot water soaking for every one minute of cold water soaking.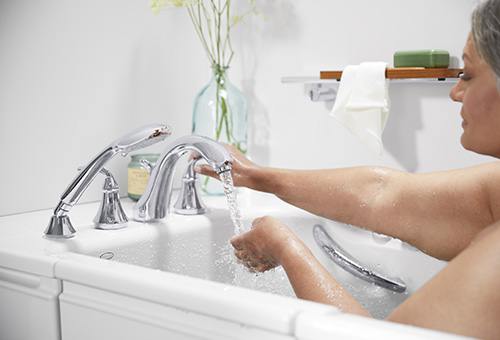 How to Do a Contrast Bath
Before you begin, gather the necessary supplies. You can use your own tub for the warm water and a bucket for the cold water. In addition, you'll need a timer and a towel or two. 
Fill the tub with warm water, between 93°F and 113°F, and the bucket with cold water, between 50°F and 59°F. 
Place either your affected limb or yourself into the warm water. Set the timer for one to four minutes. You can do gentle exercises during this portion if you choose. 
Once your timer rings, switch quickly from warm to cold water. Set your timer for one minute. 
Repeat this process for 20 minutes, being careful not to exceed 30 minutes. Check the water temperature throughout and refresh the water as needed to maintain ideal temperatures.
What are the Benefits of a Contrast Bath?
Contrast baths are believed to help treat the symptoms of a variety of ailments, from arthritis to carpal tunnel syndrome to plantar fasciitis. In addition to improving circulation, contrast baths can help manage pain and increase the range of motion in the affected area. They're a great option for chronic pain or to treat healing injuries, particularly muscles, since contrast baths increase blood flow in affected areas. 
What Areas of the Body Benefit from Contrast Baths?
Since contrast baths can target specific areas, it makes sense to use smaller tubs of warm and cold water for these parts of the body: 
Hands and wrists
Forearms and elbows
Feet and ankles
Calves and knees
You can always do a full-body soak, but if there's only one problem area, using a smaller amount of water for that affected area makes sense. 
Are There Issues With Going from Hot to Cold Rapidly?
There are some limitations needed to make contrast baths a safe practice. You should only have a contrast bath therapy session for 30 minutes at maximum. If you have high blood pressure, heart issues, diabetes or open, untreated or infected wounds, another hydrotherapy option may be more effective for your needs. 
When to Avoid Contrast Baths
Contrast baths are perfectly safe when performed as directed, provided you don't have any conditions that may react poorly with the practice. That being said, there are some reasons to remain watchful, especially if you plan to immerse your whole body instead of just one or two limbs.
Make sure the water is at an appropriate temperature. Water that's too hot could lead to burns, and water that's too cold could lead to skin damage. 
In very rare cases, contrast baths can cause heart arrhythmias. Those with heart issues should seek other forms of hydrotherapy.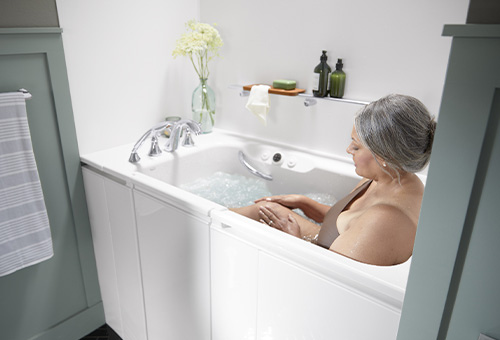 How Walk-in Tubs Can Complement Contrast Baths
As part of a hydrotherapy regimen, contrast baths can reduce pain and muscle strain. Add a soak in your walk-in tub to wind down as a soothing end-of-day ritual! Our Walk-In Baths have built-in hydrotherapy jets, which, in addition to contrast baths, can help stimulate blood circulation. Each jet can be moved independently to target aches and pains. We recommend adding Epsom salt to your bath to rejuvenate sore muscles after a long day.
Upgrade your bath experience with a Walk-In Bath.
Contact Us