How to Remodel Your Bathroom to Fit Your Height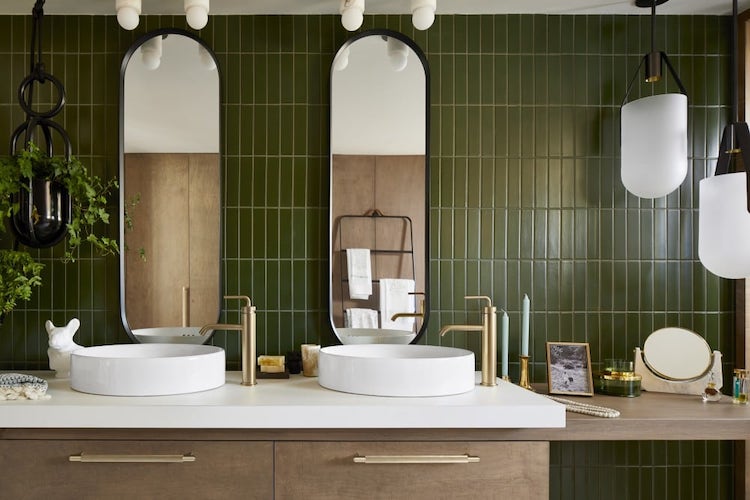 Superior home design isn't just about style—it's also about comfort. Ultimately, every room in your home should be designed to work for your body, providing as easeful and safe an experience as possible. This may be most important in a bathroom, where height can play a significant role in your comfort. And as most bathrooms are designed for the average height (5'7" for men, 5'3" for women), your remodel may require some adjustments to better suit your stature. Follow our tips below to design the bathroom that fits your height!
Vanity Sizing
Your bathroom routine likely includes a good portion of time spent at your vanity. Whether brushing your teeth, applying makeup or perfecting a clean shave, interaction with your vanity generally involves bending over to open drawers or access the sink. If your vanity is not positioned or designed to fit your height, you may experience discomfort in your back, hips and shoulders after completing your routine. To prevent these issues with your remodel, you have some options:
For standing vanities, explore a range of heights. Taller individuals may benefit from comfort-size vanities at 36 inches high; options are even available at up to 48 inches high.
Floating vanities, a modern, stylish choice, can be wall-mounted to suit your ideal height with the additional benefit of storage space beneath.
Consider your sink. Above-counter sinks require less bending to reach water than inset sinks, as they simply sit higher atop your vanity's counter space.
Mirror Placement
Once you've selected the vanity that best suits your height, you can better determine where to place any mirrors above it. Bending or stretching for reflective access will only make it difficult to get the most practical use out of your vanity space. We suggest placing the center of your mirror at eye level, but you may also want to test placement a few inches above your sink faucet's highest point. 
Note that you'll cover more space with larger mirrors. If family members of varying heights will use your bathroom, you may need a bigger mirror to ensure that most people can easily see themselves.
Showerhead Height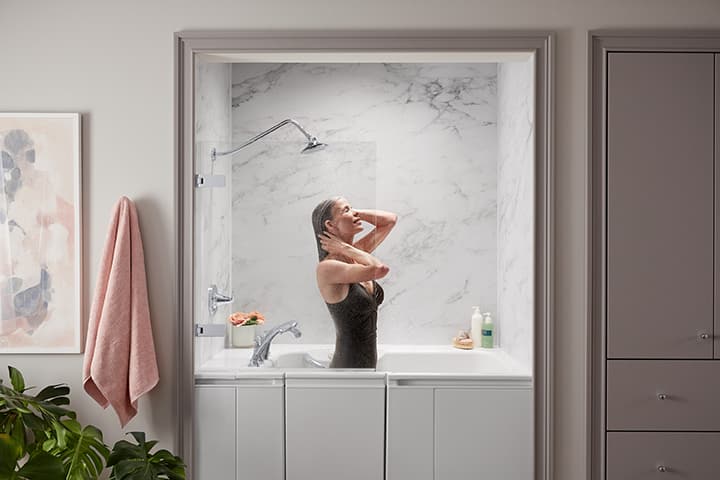 Height-suitable design may be most important in wet spaces. Showers and baths are often part of a relaxation routine, and truly unwinding can be difficult if you are required to crouch or strain for water access—which could ultimately be dangerous on slippery surfaces! 
Where you mount your showerhead can make all the difference, but placement may depend on available wall space. It's common to install the showerhead at 72-78 inches above the bathroom floor (actually below the recommended 80 inches), but this can vary widely. Try a curved or S-shaped showerhead for additional height that extends beyond the showerhead base placement. And for more flexibility that depends less on specific placement, explore adjustable height bars or even handshowers.
Tub Length and Size
Bathtubs come in a variety of shapes and sizes, so it's worth shopping your options to guarantee a more comfortable bath time. Longer tubs offer more room to stretch your legs and shift positions, and wider tubs prevent a constricted bathing experience. Even tub depth varies to prevent water overflow. 
To determine what sizing may work for you, sit down with your legs stretched out and measure from your toes to your tailbone. Padding this measurement with a few additional inches allows for greater ease of movement while in your bath.
Introduce Safety and Comfort Into Your Bathroom
The KOHLER® Walk-In Bath is designed for a bathing experience that maximizes your safety and comfort. With features like an ultra-low step-in and extra-wide seat, you can enjoy bathing again in a bathtub that was designed for you.