2020 Bathroom Design Trends to Accent Your Walk-In Tub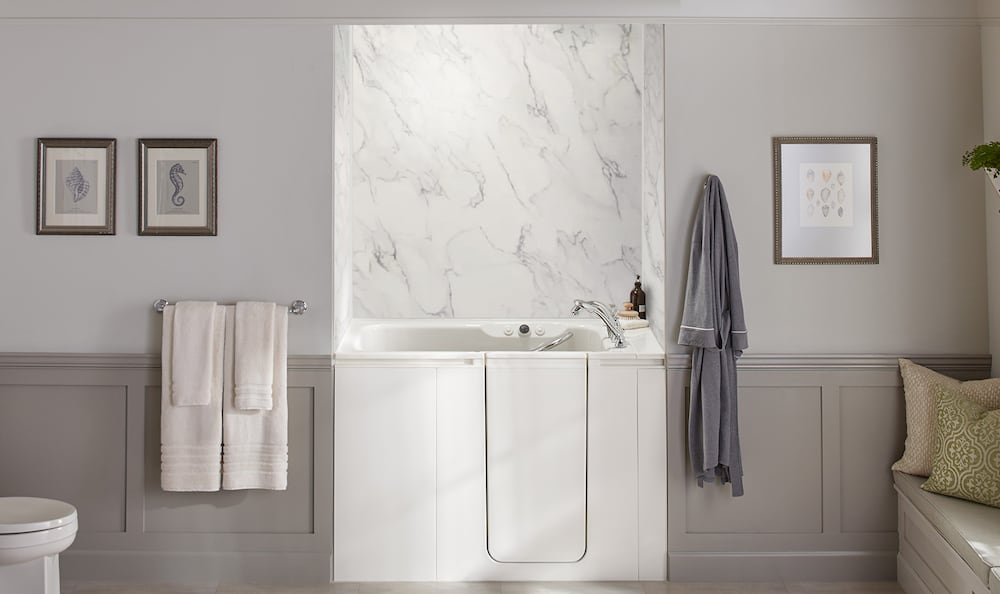 2020 rings in a new year and decade, giving you the perfect opportunity to reimagine your bathroom with the latest design trends.
Introducing bold fixtures, striking color combinations, and natural textures into your bathroom can breathe life back into your space and create a coordinated, polished look worthy of being featured in an interior design magazine.
And who says style and accessibility can't coexist? Paired with decorative LuxStone® bath walls, the KOHLER® Walk-In Bath blends beauty and function so you can stay current without sacrificing your safety and independence. You can even customize your bath color and faucet finish to complete the look.
See 2020's top bathroom trends at work and learn how you can recreate them with the KOHLER Walk-In Bath.
Marble and Gold
Reminiscent of the opulence and splendor of Greco-Roman architecture, marble captures a timeless look and infuses luxury into your bathroom.
Pairing gold fixtures and accent pieces with the cool hues of Carrara marble brings warmth to your space for a refined and soothing ambience. Metallic accents add a punch of shine and contrast for a bold and refreshing look.
How To Recreate This Look:
Make Carrara marble the star of your bathroom. The CrossCut Dune LuxStone wall pattern imitates the signature gray-veined design made popular centuries ago, but without the high-maintenance upkeep of marble.
To complete the lavish look, accent with metallic faucet finishes such as Vibrant® Brushed Nickel or Polished Chrome. Incorporating muted neutrals throughout the rest of the décor keeps the design clean and sleek.
Monochromatic Neutrals
A neutral color scheme creates a relaxing atmosphere perfect for a luxurious soak in the tub. Light and dark shades paired together form a soothing monochromatic look while providing enough contrast to make your bathroom visually dynamic.
Keep this design from falling flat by incorporating neutrals with warm undertones such as beige, taupe and brown. The lighter shades create a calming effect while the deeper colors infuse much-needed warmth.
How To Recreate This Look:
Pair light and dark neutrals to give your bathroom depth. The light-colored Biscuit bath wall set against darker, earth-tone décor creates an air of sophistication and drama, proving a monochromatic scheme that is anything but boring.
It's important to balance out this polished and stately look using warm-toned neutrals to invite feelings of comfort and hominess. And don't forget to include textures and patterns within the space for further visual interest.
Sand Tones
This bathroom trend turns to nature's patterns for inspiration. The muted sand-patterned walls create a light and airy vibe, while the light-colored bathroom vanity brightens the space. Together, these design elements reimagine a serene retreat where you can relax and unwind during a long soak.
Bright tones and organic lines take center stage in this fresh, clean look.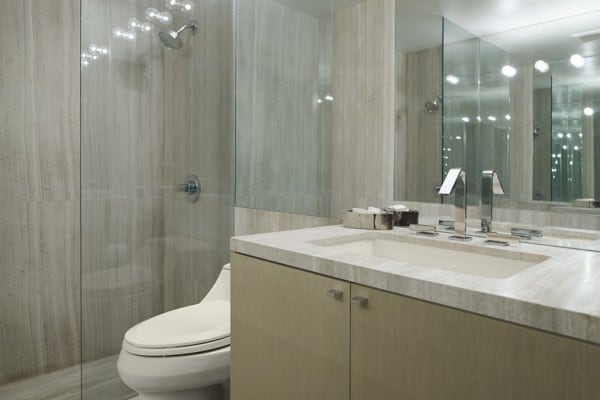 How To Recreate This Look:
Capture an organic feel with the VeinCut Dune and White LuxStone bath walls. Featuring smooth parallel lines and a light sandy hue, it mimics real stone to showcase a natural palette.
Keep the look simple with a muted color scheme and a few hints of subtle color in accent pieces such as throw pillows, bathrobes and artwork.
Reimagine Your Bathroom
You deserve a bathroom that is stylish and accessible. When you pair the KOHLER Walk-In Bath with decorative LuxStone bath walls, you can have both. Use the design trends above to reimagine your space or view our mood board for more bathroom design inspiration.