As a self-proclaimed spa lover, Vivian missed that relaxing experience at home.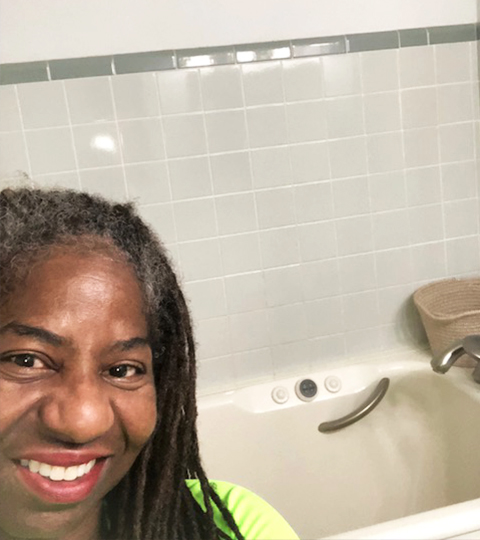 "The tub that I had in this house was very shallow, and I love to take baths," she says. "It wasn't feasible to take a good soaking bath in the tub that I had. I work out a lot, I'm getting older, but I like the spa experience."
Her daily workout routine includes running, yoga and strength training. At 61, Vivian has no plans of slowing down. But she wanted something at home to supplement her training and provide therapeutic relief for sore muscles. Her only bathing option was a standing shower, which wasn't helpful when she wanted to relax."
She saw a commercial for the KOHLER® Walk-In Bath and didn't think twice. "When I saw KOHLER did one, I understand that brand and I like the brand," she says. She scheduled her quote appointment with a local KOHLER Authorized Dealer. "I trust Kohler; I didn't really get any other quotes."
Her salesman and installation team were professional and tidy, she says. Knowing that the local KOHLER Authorized Dealer was trained by KOHLER and not simply a team of subcontractors put her mind at ease on installation day. "They did it in a day just like they said," she said. "They cleaned up excellent."
Now, Vivian's bathing experience is like a day at the spa.
Each soak helps to soothe her muscles and relax her mind after a day of work and exercise.
"I am getting older, and this is the house I plan on retiring in, so I'm trying to make all the necessary things to get ready for retirement in the next five or six years." However, she thinks the Walk-In Bath could benefit people from all walks of life.
"I think it's going to be a really great demand on them, not just for the geriatrics like me," she laughs.
I schedule my bath times so that I am not rushed so I can completely enjoy the experience.
Her favorite features are the ones that recreate a tranquil spa environment. "I like the jets, of course, and the warm seat. That's really good in the wintertime," Vivian says. "And that I can just walk in, I like that. I didn't think I would like it that much!"
When she doesn't have time to soak, Vivian says she uses the multifunction handshower for a faster, shower-like experience while she sits in the Walk-In Bath.
Comparing her new bathing routine to the old one was like night and day. "The only time I took a bath was if i went on a really nice vacation at a resort," she says. "I'm so glad that I am able to bathe now. It's incomparable."