When serious health complications strike suddenly, many everyday aspects of life, such as bathing, change completely.
It really changed things for me. It was more than a birthday present, it was a miracle.
Susan, 63, suffered a stroke in 2014 that bound her to a wheelchair. Her husband Bob helps her bathe, but even with help, her limited mobility made it near impossible to safely and comfortably take a shower or bath. The high wall kept her from safely entering the bath, so bathing quickly became dangerous. She found it easiest to bathe in bed, something she did for two years.
Susan's family looked high and low for a solution to her uncomfortable and difficult situation. In 2016, her brother and three children decided to surprise Susan with a Walk-In Bath for her birthday.
"It really changed things for me," Susan says. "It was more than a birthday present, it was a miracle."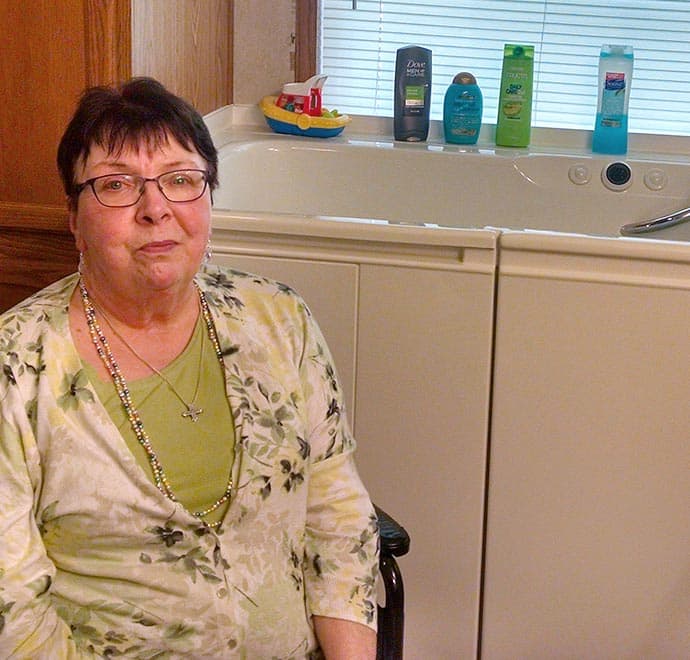 Together the family consulted several walk-in tub installers and brands.
The KOHLER® Walk-In Bath was the obvious choice for Susan because of its low entry and extra-wide door opening. "We chose KOHLER because of the way the tub opened and closed because it was a full-size door," Susan explains. "A lot of [brands] had little tiny doors."
The Walk-In Bath's low step-in was a must for Susan. At only three inches high, it was manageable enough for her to comfortably step into despite her physical limitations, she says. "I can get in, I can get out. It was like having a miracle happen."
Installation day went without a hitch. "It was wonderful," Susan says. "In and out, I could not believe that they actually installed it in a day. It was seamless."
Finally, Susan was able to bathe comfortably again. She enjoys reclining against the Bask™ heated backrest as the Walk-In Bath quickly fills and drains. But perhaps more important than the physical comfort she experiences in the bath is the newfound emotional comfort she feels. "It does give me access, and a feeling of freedom," she says.