After a minor stroke, Lynne struggled to enter and exit her traditional tub due to poor balance and limited mobility.
Her biggest fear was falling because she didn't feel confident stepping over the high threshold of her old tub. She describes, "[I felt] scared, like I was going to fall trying to step over." Since the stroke, she has also experienced issues with her depth perception, which made it difficult to judge the height of the ledge. "I think I'm stepping down but sometimes I'm not sure where—I can lose my balance." she admits.
In her old tub, she'd have to rush through her shower because there was no place to sit down and she'd get tired and dizzy after a while. Describing her bathing routine before Kohler, Lynne says, "I used to have one of those handle things so I would stand and hang on to the handle."
After a few close calls, Lynne decided it was time to find a safer bathing solution. So when Lynne saw an ad for the KOHLER® Walk-In Bath, she knew her search was over.
"I didn't even shop around," she says. And knowing it was built by Kohler helped make her decision even easier. She was grateful that "financing was great, easy [and] quick."
I like the idea of having it so I can stay in my home longer. I don't plan on going into another place.
She couldn't wait to enjoy her new walk-in bath, reflecting, "I like the idea of having it so I can stay in my home longer. I don't plan on going into another place."
Settling down is well-deserved—Lynne grew up in Hawaii but relocated to California and now lives in Colorado for her job as a Vocational Rehabilitation Counselor at the Department of Veterans Affairs. Thanks to her new KOHLER® Walk-In Bath, she can remain independent in her forever home.
She also continues to foster her sense of independence by staying active. Her favorite activity is Bingo, saying, "I only started playing Bingo after I had my stroke to help me stay mentally sharp." And even though she doesn't always get lucky, Lynne explains, "For me, it's not really about winning, but just to be able to play and have fun."
Once Lynne made the appointment for her in-home quote, the turnaround was very quick. She recalls how informative the KOHLER Authorized Dealer was during the quote and consultation process and how impressed she was by the speed of installation—it only took one day.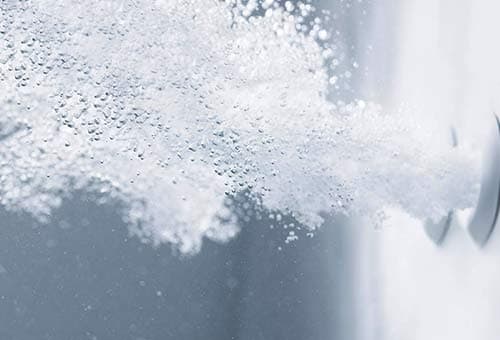 Now, she enjoys weekly soaks using the hydrotherapy jets to unwind and relax.
Creating a spa-like experience, Lynne's favorite walk-in bath features are the hydrotherapy whirlpool jets and BubbleMassage™ air jets. She can just fill up the tub, sit and soak. Even her husband has enjoyed it once or twice. "The heat was good for his back to help him try to relax," she says.
She also can bathe in leisure again. Now with her new walk-in bath, Lynne explains, "I can sit down and take my time to wash and rinse. I feel a little bit more relaxed."
Purchasing the KOHLER® Walk-In Bath gave Lynne peace of mind. "I definitely feel safer," she says. "I don't have to worry." Best of all, falling is no longer a concern of hers.