After 13 surgeries, Bob was having difficulty entering and exiting his traditional bathtub due to his disability. We spoke with Bob to learn about his journey and how installing a KOHLER Walk-In Bath transformed his life.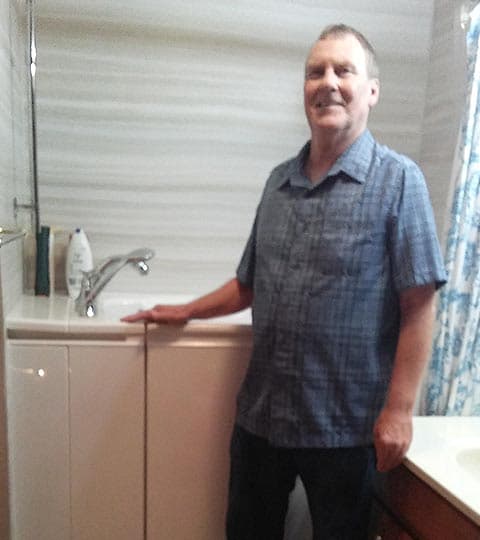 Q. Hi Bob! Why did you choose to do a walk-in tub conversion?
Because we are getting up in age, we're both over 60. I have had multiple surgeries—I've had 6 surgeries on my back and a lot of foot and ankle surgeries, and then also my knees and my neck, and it's getting harder for me to get in and out of a tub. [My wife] Debbie works hard and her muscles ache at the end of the day. So it was time.
Q. How did you bathe before you had a walk-in bath?
For the past six to eight months it seems like I was taking more sink baths, just because I couldn't get up and down and, well, the fear of falling was definitely a consideration. I wouldn't get in and out of the bathtub if my wife wasn't here. We feel more secure now as far as the falling.
Q. How does the walk-in bath help with your disability?
I have been disabled since 1997. I ruptured discs at all three levels right before I was 30 years old. During the time that I was 30 until present I've had a grand total of 13 or 14 surgeries. It's been a gradual battle and there really is nothing that can be repaired anymore. I'm just not a good candidate for more surgery, so we're trying to find different ways [to feel better], and this is one way. And we'll be able to be in our house longer with this.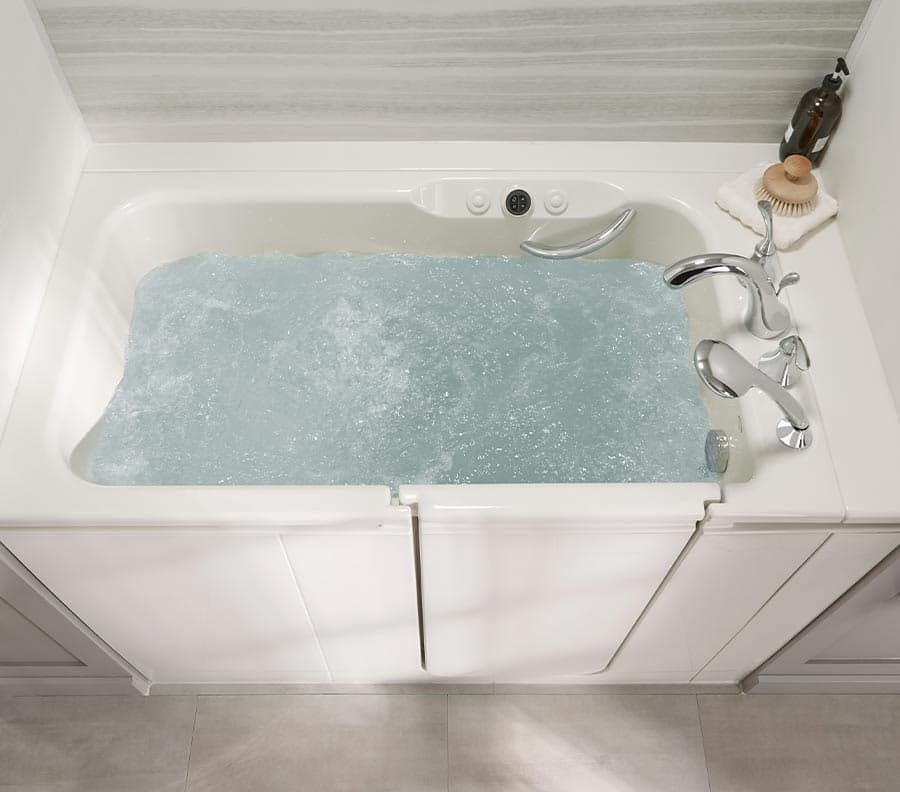 Q. It sounds like it's giving you some therapeutic relief.
Yes, it's very nice. I'm really enjoying it, and it just relaxes you. It does alleviate some of the pain and muscle tension. It's very beneficial and therapeutic.
Q. What are your favorite walk-in bath features?
I don't have arm strength, plus the walk-in tub has the solid handrails and the grip where I can raise and lower myself, that's a good feature we like. Of course I like the jets and [their] locations. I have problems in my ankles and in my back, and it lines right up with the jets and it really has helped. I like the shower head and to be able to stand for part of the shower and sit for part of the shower, that's a real big help.
Q. Why did you choose Kohler?
I have seen the Kohler name in different places, and it always looked nice, top of the line and good quality. It doesn't look like they make anything cheap. Everything has a purpose, and they could put more bells and whistles on it, but I think for what we needed, it was kind of a perfect fit. We had actually scheduled some consultations with another company or two, but after we saw the Kohler product and the quality of it, it just seemed like a good fit for us.
Q. How was the process of installing the walk-in bath?
I don't think we've ever had a remodeling project that went quite as smooth as this. I think considering the age of our house, it's like 67 years old… If anybody did an update or any kind of improvement in our house, it seemed like they all had problems with it, but it seemed like this process went smoother than any of the other improvements we've done. It looks really nice.
I don't think we've ever had a remodeling project that went quite as smooth as this.
Q. How does the walk-in bath design look in your bathroom?
It looks very, very nice. It's really been a blessing and it's going to continue to be. I figure that it's going to allow us to stay as a married couple in our home. And that definitely added equity to our home as well. I think it probably will be a really good deal when we have to sell our house.
Q. How do you use your walk-in bath?
I tend to want to stay in the bath a little bit longer. It's like when you get into the old bathtub, you just get in, get your business done, get out of there. This one is kind of like your "Calgon, take me away!" moment.