Getting In & Out of a Walk-In Tub with Limited Mobility
Your bathroom is one of the most commonly used rooms in your home—and one of the spaces where you most need to pay attention when aging in place. When something as simple as getting in or out of your bathtub presents difficulties, it's critical you make modifications that prioritize accessibility and stability. Learn more about how to get in and out of your walk-in tub when living with limited mobility below.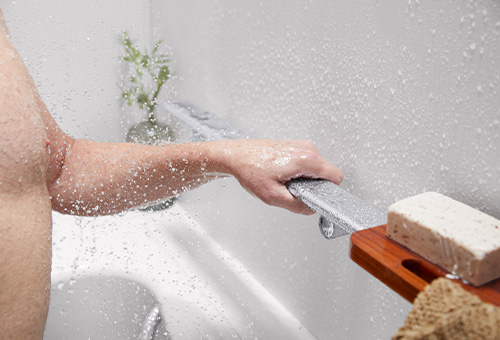 Building an Accessible Bathroom
With some accommodations and fairly simple renovations, a standard bathroom can be a restful space you navigate confidently. ⅔ of Americans over 45 who make modifications to their home do so to stay in their home longer, so there are plenty of available ideas on practical changes for a safer, relaxing bathing experience.  
Do a walk-through before making any adjustments, noting areas where extra support or upgraded equipment would be helpful. If you're renovating your bathroom for a loved one, be sure to listen to them during this process. Their input is invaluable since it's their daily experience you're seeking to improve. 
It's simple, but plenty of lighting increases awareness of surroundings, highlighting water or other problems. Installing extra lights around the sink or above the tub could be a huge help.
Prioritize a walk-in tub. This will likely be the biggest change to your bathroom, but it's one that grants peace of mind. A low threshold for stepping in and out of the tub increases confidence in managing safety both pre- and post-bathing. Many walk-in tubs also include indented handrails on the door and the tub itself to ease getting in or out. 
Bathroom safety bars give you a good grip on the walls beside or inside your tub. Many walk-in tubs include a grab bar inside the tub for use at all points during your bathing process, ensuring a safer place to grip should you lose your balance. Having one on a wall nearby where you dry off after bathing is also a good idea. Anticipate where your needs will be before they appear. 
Placing non-slip mats just outside the tub and in other key areas, like around the toilet or sink, also helps. These work in combination with the grab bars to maintain stability.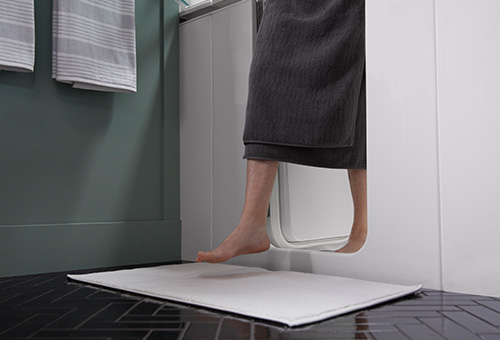 Customizable Walk-In Bath Sizing
With upgrades like wider seating and doors available, walk-in tubs offer plenty of human-centered design opportunities to meet you where your needs are. Though the KOHLER® Walk-In Bath is designed to fit perfectly where any standard-sized tub would, we can customize the length from 52 to 60 inches and the width from 28 to 32 inches.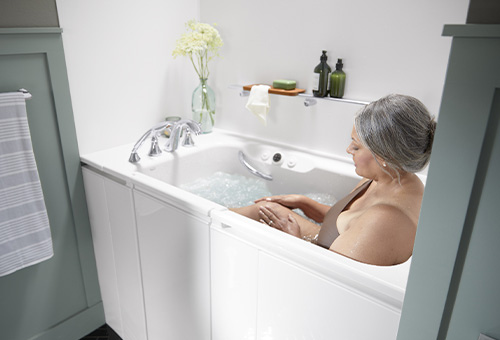 Maintain Your Confidence and Stability When Bathing
With your bathroom set up for success, you or your loved one can navigate the bathroom with confidence. Bringing safety measures like these to the bathroom allows for dignity and peace of mind when aging in place. 
A great first step in this process? Getting in touch for a free estimate for a Walk-In Bath. With a Walk-In Bath, you or your loved one will be set up to navigate the bathroom with confidence.