Pain and numbness in his lower legs gave Ted trouble with his balance whenever he used his bath.
With a sunken bathtub, he risked losing his balance as he entered and exited. The bath also lacked any therapeutic features. To him, it seemed a waste of space.
I don't know what's the use of having a tub unless it's got some jets to it.
"I'm 66, I can't even hardly get in it," he says. "And I'm not inactive, I still play fastpitch softball. But crawling into that tub and crawling out was impossible."
For 15 years, he used just a shower, forcing him to stand and putting a strain on his legs. Wanting to upgrade to a safer and more comfortable bathing experience to soothe the neuropathy in his legs, Ted looked for a bath with features similar to the whirlpool he enjoys at the gym.
"I don't know what's the use of having a tub unless it's got some jets to it," he said.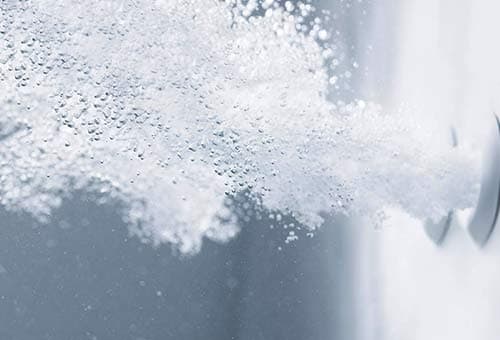 Ted saw a TV commercial for the KOHLER® Walk-In Bath and knew it was what he needed. He scheduled an in-home consultation to learn more and made an appointment for installation. In just one day, installers came to his home, removed his sunken tub and installed the walk-in bath and LuxStone® bath walls.
Now, he uses his bath three to four times a week. He enjoys resting against the heated backrest while the whirlpool and BubbleMassage™ jets target his back and leg muscles. "It makes [the neuropathy] feel better," he says. "It relaxes you. When you're sore, it's nice to soak."
Another welcome benefit of his new bath is improved sleep, Ted adds.
Accustomed to waking up every one or two hours throughout the night, he now sleeps longer and wakes up feeling refreshed.
A longtime fastpitch softball player, Ted still plays with his team every week. He also loves to collect and restore cars, especially his three Chevrolet SSRs.
More changes are coming to Ted's home. "The whole bathroom's going to be remodeled now because I got that nice pretty tub," he says. To add an element of colorful design to his new bath, Ted also installed KOHLER LuxStone Bath Walls in the VeinCut Sandbar pattern. He loves the look so much, he said, he plans to complete the look with new flooring, vanity and more wall paneling. "It almost looks like a wood grain pattern, I really like it," he says.
"I was most satisfied with the overall look and finish of the materials," he says. "I should have had them do my whole bathroom!"
The LuxStone® bath wall in Veincut Sandbar has since been retired. Explore other luxury walls and surrounds from the LuxStone® collection.